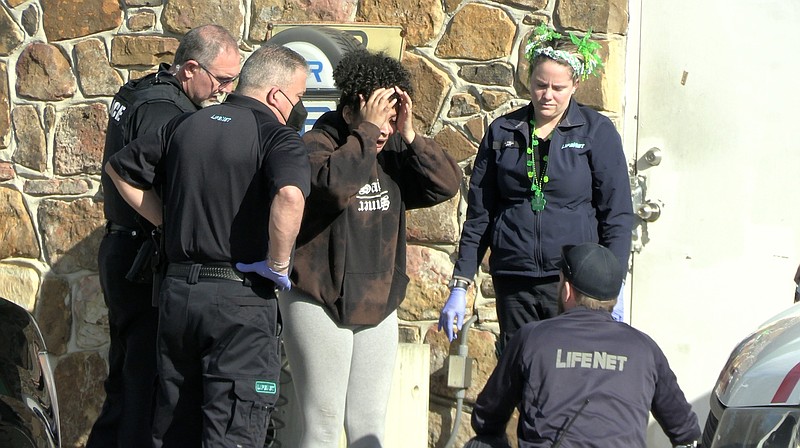 Hot Springs police and LifeNet personnel comfort a distraught woman at the scene immediately following the fatal shooting of an unidentified man shortly after 9:30 a.m. Thursday in the parking lot of the Valero, 1306 Albert Pike Road. – Photo by Andrew Mobley of The Sentinel-Record
UPDATE
A local man and two local teens have been charged with second-degree murder for the shooting death Thursday morning of an unidentified man at the Valero, 1306 Albert Pike, Hot Springs police said in a release Friday.
Malik Mekhi Hughes, 18, and Jamiah Hughes, 20, who both list the same address on Ross Street, and Kai Laramey Moore, 19, who lists a Stover Street address, were taken into custody shortly before 10 a.m. in the area of Central Avenue and Winona, about 20 minutes after the shooting, and an investigative hold was put on them Thursday.
According to the release, they have each been charged with second-degree murder, a felony punishable by up to 30 years in prison, and all three remain in custody on zero bond.
The name of the victim was still being withheld Friday "pending notifications," the release said.
ORIGINAL ARTICLE
An unidentified man was shot and killed Thursday morning in the parking lot of the Valero, 1306 Albert Pike Road, and Hot Springs police reportedly arrested three "persons of interest" less than 20 minutes after they allegedly fled the scene in a vehicle.
Police received a 911 call about the shooting shortly after 9:30 a.m. and learned three suspects had fled the scene and were being followed by a witness to the shooting in another vehicle. Officers were able to locate the suspect vehicle shortly before 10 a.m. and take the three occupants into custody in the area of Central Avenue and Winona Street.
Officer 1st Class Omar Cervantes, the department's public information officer, later confirmed they had "three persons of interest" in custody in connection with the shooting but the names of the three persons or the victim were not being released as of presstime Thursday.
Video not playing? Click here https://www.youtube.com/embed/QNHgNeIKyVs
A man at the scene who worked at a business nearby told The Sentinel-Record the "ambulance took too long to come, that's why he passed away. They took about 20 minutes."
"I was at work and my employee ran over here to try to save him. He been out here about 20 minutes. Took them a while. And he was still breathing and they was doing CPR on him. He was still breathing and all that," the man said.
"Another young brother passing away from nonsense violence. Stop the violence," he said.
The incident was still under investigation Thursday evening, Cervantes said, and anyone with information should call police at 501-321-6789.
Thursday's shooting death is the second reported homicide in Garland County in 2022.
On March 7, shortly before 4 p.m., the body of Ryan K. Kennedy, 43, of Hot Springs, was found in a wooded area off the 1400 block of Carpenter Dam Road.
On Wednesday, Hot Springs police charged Damonte Walters, 18, of Henderson, Texas, with first-degree murder in Kennedy's shooting death and he remains in custody on a $500,000 bond. Walters had been in custody since his arrest on Jan. 10 on unrelated charges. He was arrested in the same area where the shooting reportedly occurred.
Police said in a news release Thursday that detectives "will continue to follow leads" and anyone with information regarding the homicide of Kennedy should contact Detective Thomas Plummer at 501-710-6997 or Detective Mark Fallis at 501-441-5681 or send tips online through the Crime Solvers Tip Form at http://www.cityhs.net.