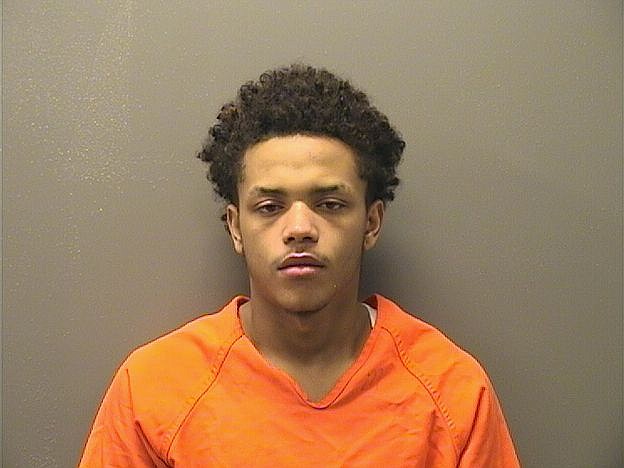 Damonte S.R. Walters – Submitted photo
A Texas teen arrested in January in an allegedly stolen car off Carpenter Dam Road was charged with murder Wednesday after last week's discovery of a body in the same general area.
Damonte Syless Ray Walters, 18, who lists a Henderson, Texas, address, who was still in custody from his arrest on Jan. 10, was served Wednesday with the warrant for first-degree murder, punishable by up to life in prison, for the shooting death of Ryan K. Kennedy, 43, of Hot Springs, whose body was found March 7 in the 1400 block of Carpenter Dam Road.
Walters is being held on a $500,000 bond with the case filed directly to Garland County Circuit Court. He had pleaded guilty on March 1 in Garland County District Court to misdemeanor charges of theft by receiving, possession of drug paraphernalia, resisting arrest and obstructing government operations in connection with the stolen vehicle incident and was sentenced to one year in jail with all but 51 days suspended.
Texas authorities were in the process of extraditing him to Gregg, Texas, for charges he was facing there when the murder charge was filed in Hot Springs, keeping him here.
According to the probable cause affidavit on the murder charge, on Jan. 7, Kennedy had been reported missing through the Garland County Sheriff's Office. In the report, it was noted Kennedy was documented as saying "some people were after him" and had not been heard from by his family since then.
On Jan. 10, shortly after 1:30 a.m., Hot Springs police responded to the 1400 block of Carpenter Dam Road to a gated private drive on the east side of the road for a welfare check involving a vehicle stuck in a ditch and a man dressed all in black attempting to hitchhike.
They found a white 2015 Chevrolet Cruze "stuck in a mud hole down a trail." A computer check on the license plate revealed the car had been reported stolen out of Kilgore, Texas.
Walters was found in the driver's seat of the car and when officers attempted to detain him he resisted. He was taken into custody finally and initially gave a false name and claimed to be from Oklahoma, but he was eventually identified as Walters and the Texas warrant discovered.
Articles belonging to Kennedy were recovered from the vehicle, the affidavit states, including his wallet, driver's license and other ID. Officers also reportedly found a glass meth pipe with residue and digital scales in the car.
On March 7, around 4 p.m., police responded to the 1400 block of Carpenter Dam again regarding a deceased person who had been found, later identified as Kennedy. In checking officers' body and vehicle cam footage from the earlier arrest of Walters, it was determined Kennedy's remains were east of where the Cruze was found in some "tall grass and thick briers."
On March 10, Walters was questioned by police after being read his rights. He allegedly stated on Jan. 10, he met with another male who asked Walters to help him get money from someone who owed him and offered to pay him some of the money in exchange for his help.
Walters said he agreed and he and the other man went to an address on Highway 290 where they confronted Kennedy. Walters said the other man threatened Kennedy at gunpoint and forced him to get into a vehicle by telling him "he would shoot and kill him where he stood" if he didn't.
Kennedy got into the front passenger seat of the Cruze as Walters drove and the other man sat in the back seat behind Walters. A third man sat in the back behind Kennedy, Walters said, and they drove to the location off Carpenter Dam.
During the drive there, Walters said the first man confronted Kennedy again about the money owed to him. Once on the private drive, Walters said the man displayed his revolver again, "leaning over towards Kennedy" and then shot him where he was seated.
Kennedy jumped out of the car and ran around the front toward the wood line. The first man exited the vehicle and continued to fire at Kennedy as he fled until Kennedy collapsed on the ground, Walters said.
At that point, Walters admitted to also firing a gun in Kennedy's direction, the affidavit said. He said the first man walked over to where Kennedy fell and "fired several more shots" and then the first man fled the area on foot.
The affidavit notes Kennedy's body was sent to the Arkansas State Crime Laboratory in Little Rock for an autopsy where his death was ruled a homicide. A warrant for Walters' arrest was issued Tuesday.
Print Headline: Texas teen, 18, charged with murder of HS man found off Carpenter Dam