8 hr 39 min ago
Ukrainian officials claim strike on Russian weapons depot in Luhansk region
From CNN's Celine Alkhaldi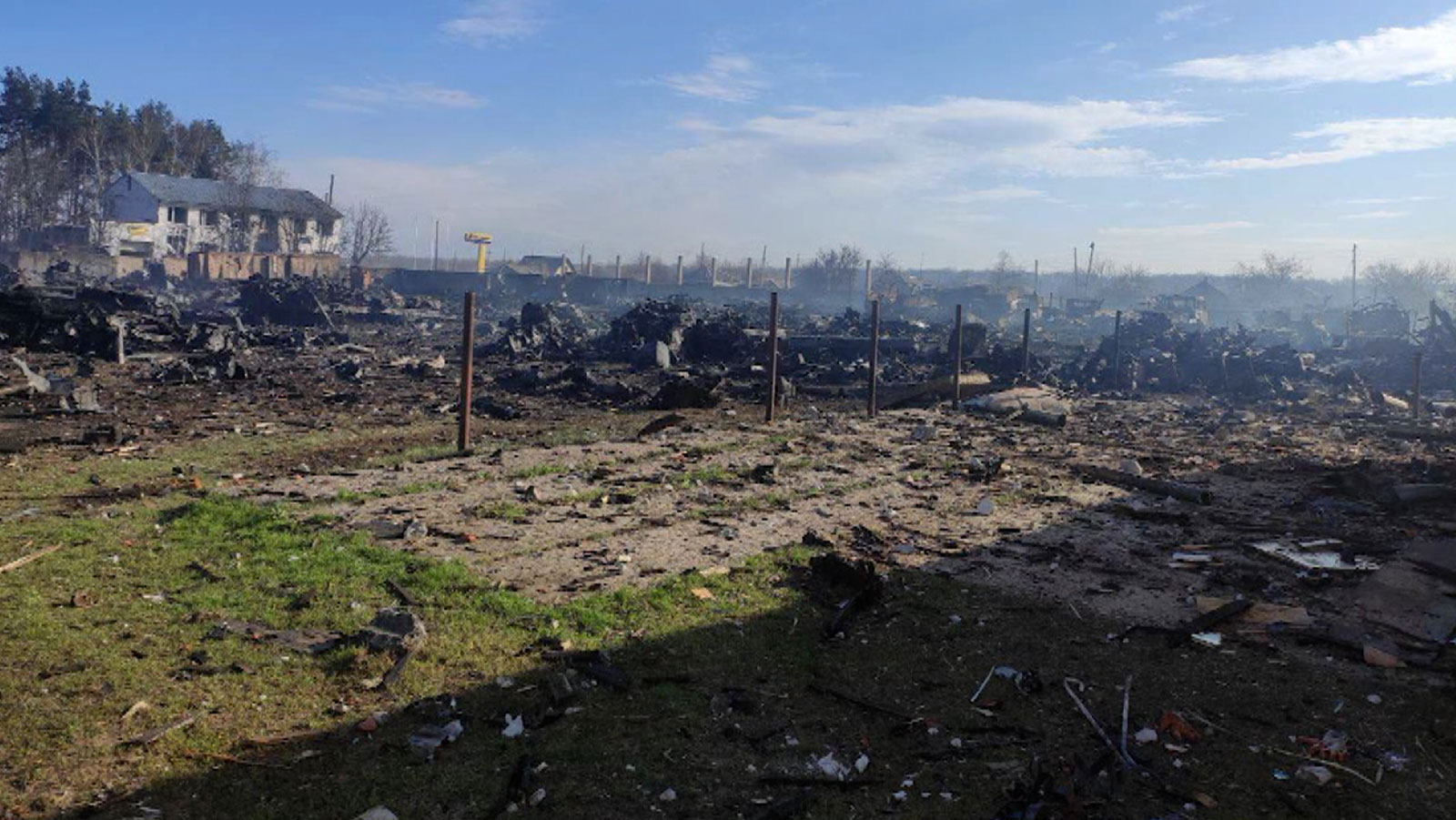 Ukrainian officials claim to have destroyed a Russian weapons depot in Novoaidar, Luhansk region.
CNN has geolocated a video and images shared to social media that appear to show the aftermath of that attack.
On Monday, Serhii Haidai, head of the Luhansk Regional Military Administration, said in a Facebook post that Ukrainian forces had destroyed a Russian "ammunition warehouse" near a Russian settlement in Luhansk.  
In a video shared by Russian state media RIA Novosti, Luhansk People's Republic (LPR) People's Militia officer Roman Ivanov said the Ukrainian strikes on Novoaidar destroyed "more than 20 homes, along with a warehouse filled with chemical fertilizers."
Haidai denied Russian claims that Ukrainians targeted residential buildings.
Burned out shells and rockets are seen scattered all over the ground in the video and images, and an agricultural equipment store is spotted in the distance.
9 hr 44 min ago
CNN tours Ukrainian villages decimated by Russian troops
From CNN's Jason Kurtz
In Ukrainian villages east of the capital of Kyiv where Russian forces have withdrawn, residents begin to slowly emerge from hiding and the new reality they're facing is nothing short of devastating.
CNN's Clarissa Ward toured a pair of villages that were occupied by Russians for more than a month. She reported that they found "endless accounts of horror, executions, arbitrary detentions and more."
One local school was taken over by Vladimir Putin's invading army, used as a base, and left in shambles after being looted and ransacked by the troops.
Bloodstains speckle the main entrance, where the school's principal is left to wonder how such an atrocity came to be.
"We are for education. Education is the future. Our students," the woman told Ward. "It's such a shame that our occupiers didn't understand this. Why steal everything? This is a school."
One chalkboard in a classroom Ward visited that was formerly occupied by Russians said, "Forgive us, we didn't want this war."
Nearby, a local cemetery houses the bodies of six Ukrainian men who authorities say were executed on the first day the Russians arrived.
"We dug very fast so they wouldn't shoot us," a woman told CNN. "But there was shooting over there and heavy shelling."
A pair of brothers are among the dead, Igor and Oleg. Their mother survived, but now mourns.
"They were very good boys," she said. "How I want to see them again."
One Ukrainian mother told Ward her daughter was taken on March 25. More than two weeks later she doesn't know where she is, or whether she survived the Russians' invasion.
"They said they found information on her phone about their forces," the mother told Ward. "They told me she was in a warm house. That she was working with them and she would be home soon."
But as Ward revealed, "Victoria never came home."
Amid the risk of certain death, the Ukrainian residents clung to one another, and their sense of pride, with one woman finding solace among blue and yellow stripes, Ward reported.
"We kept it, we kept it," the woman tells Ward, showing the Ukrainian flag given to her husband for his military service. "We hid it."
Now the flag can come out of hiding, as Russian forces have retreated. The village is decimated, but for the moment, it's once again free.
Watch Ward's on the ground reporting:
9 hr 57 min ago
Russian forces left bombs, death and destruction around Kyiv. Now, a painstaking demining operation is underway
From CNN's Vasco Cotovio and Frederik Pleitgen, Byron Blunt and Daria Markina
On the outskirts of Kyiv, Lt. Col. Mykola Opanasenko kneels down in a remote field as he winds up a small electrical generator to power a blast.
"Fire," he shouts, before bracing and pressing the trigger. A fraction of a second later, an ear-ringing bang pierces through the otherwise silent countryside.
This is the sixth controlled explosion 34-year-old Opanasenko and his demining unit have carried out since Russia withdrew its forces from the Kyiv region earlier this month. Today, they blew up 16 unexploded artillery shells, each weighing around 45 kilograms (nearly 100 pounds), in one explosion. They have another 30 shells to go through before the day is over.
Their unit is one of many operating in the region. In total, they say they've destroyed 2.5 tons of ammunition in the past week and a half alone.
"If we are all alive, then everything is successful," Opanasenko says.
As Russian forces retreated, they left behind scores of unexploded shells and bombs in addition to mines they planted to slow down the Ukrainian advance, to protect their withdrawal, or perhaps, simply to scorch the earth.
Mines, ammunition and rusty machine guns from destroyed armored vehicles can be dangerous for civilians now returning to their homes, so Opanasenko's unit goes from village to village, scouring the ground for any of these deadly ordnances that need to be cleared out.
Signs warning of mines can be seen across towns and villages around Kyiv. Units like Opanasenko's will continue their work for months to come across the country as the war rages on, according to Ukraine's State Emergency Service (SES).
"As of now, we need to survey more than 300,000 hectares," the head of the SES, Serhiy Kruk, told journalists last Wednesday.
Read more: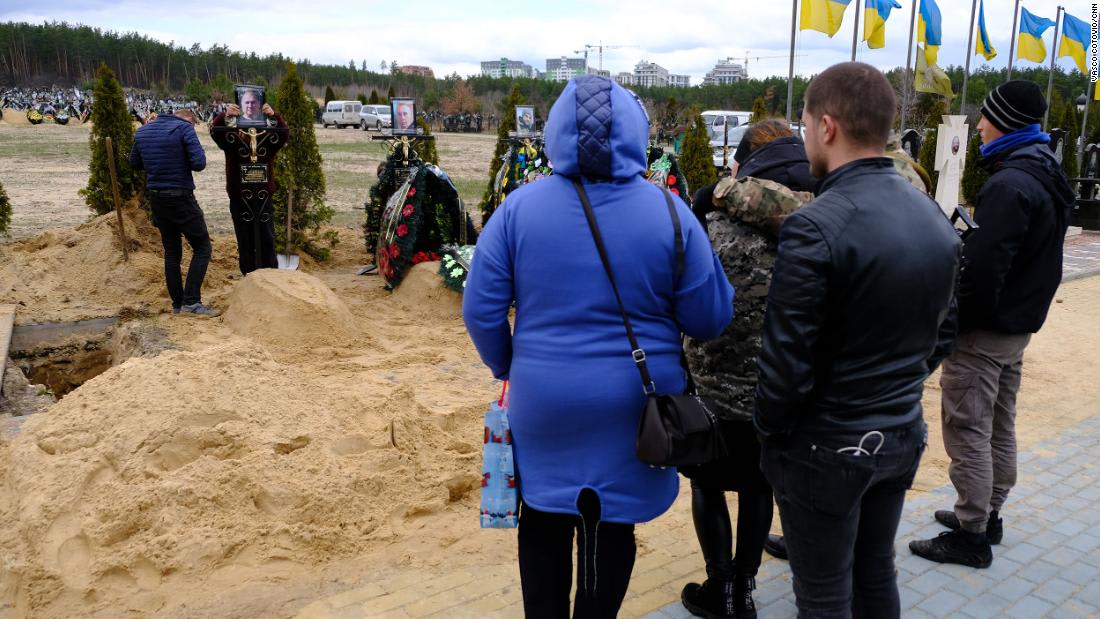 10 hr 29 min ago
Austria's leader says his face-to-face meeting with Putin was "not a friendly visit"
From CNN's Nadine Schmidt, Nic Robertson and Rob Picheta
Austria's Chancellor Karl Nehammer said he raised alleged Russian atrocities in Ukraine during a "tough" and unfriendly meeting Monday with Vladimir Putin — the first Western sit-down with the Russian President since he launched his invasion in February.
"This is not a friendly visit. I have just come from Ukraine and have seen with my own eyes the immeasurable suffering caused by the Russian war of aggression," Nehammer was quoted as saying in a statement issued by his office after the meeting outside Moscow.
Nehammer is the first European leader to meet Putin face-to-face since his invasion of Ukraine. His visit divided opinion among EU leaders, with some expressing skepticism about engaging with the Russian leader.
The pair spoke for about 75 minutes at Putin's Novo-Ogaryovo residence near Moscow, Nehammer's spokesperson said, in talks the Austrian leader described as "very direct, open and tough."
Before visiting Russia, Nehammer met with Ukrainian President Volodymyr Zelensky in Kyiv and visited the town of Bucha, where bodies of unarmed civilians were found strewn across public streets after a month of Russian occupation.
"I addressed the serious war crimes in Bucha and other places and emphasized that all those responsible for them must be held accountable," Nehammer said, according to the statement. "I also told President Putin in no uncertain terms that sanctions against Russia will remain in place and will continue to be tightened as long as people are dying in Ukraine."
The Austrian leader said Putin had blamed the Ukrainians for "being responsible for the crimes in Bucha." Video footage, however, shows Russian forces gunning down a civilian there.
Austria is militarily neutral but its government has joined its neighbors in condemning Putin's invasion.
Read more: