6 hr 11 min ago
Ukrainian deputy PM calls on leading Taiwanese electronics manufacturer to cease business with Russia
From CNN's Wayne Chang in Taipei, Taiwan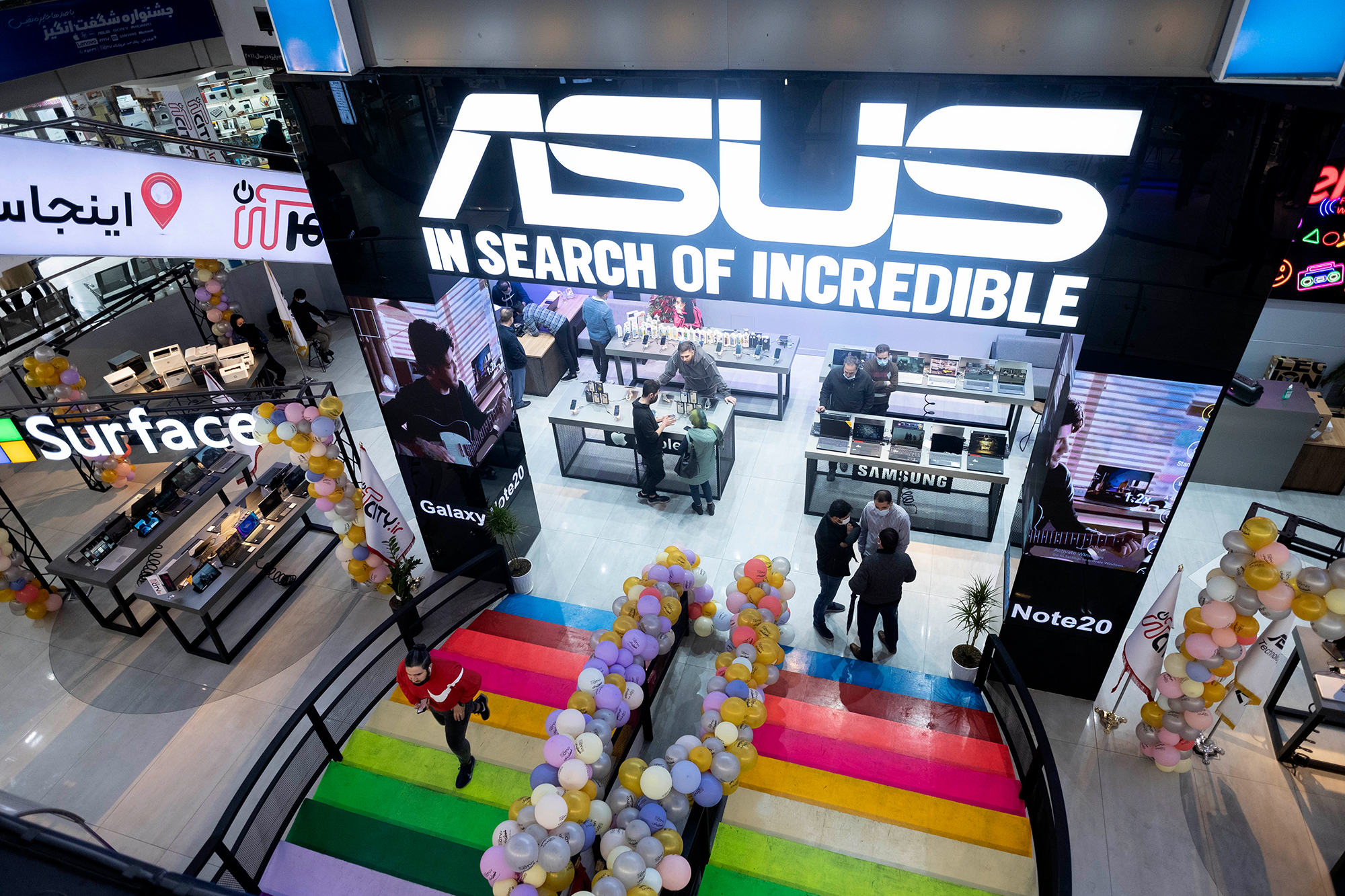 Ukraine Deputy Prime Minister Mykhailo Fedorov, who is also the minister for digital transformation, called on leading Taiwanese electronics manufacturer ASUS to cease operation and business ties with Russia as its invasion into Ukraine continues, according to an open letter posted on Fedorov's Twitter on Thursday.   
In the letter addressed to ASUS Chairman Jonney Shih, Fedorov called on the company and its affiliates to "end any relationships and stop doing business" in Russia, as well as cease relationships with Russia-based clients and partners, including "supplying hardware and electronics, providing technical support and services," until "Russian aggression in Ukraine is fully stopped and fair order is restored."     
"The IT industry always supports values of responsibility and democracy. We believe, your company also shares them. Now, responsibility is the choice, the choice that defines the future. And now, more than ever, people's lives depend on your choice," Federov wrote.   
"Russian tanks and missiles continue killing peaceful Ukrainians! @ASUS, Russians have no moral right to use your brilliant technology! It's for peace, not for war!" Fedrov said in a tweet preceding the letter.
This is the first Taiwanese multinational corporation directly called on by Ukrainian senior officials to cut business ties with Russia in relation to the invasion.  
A review of Fedorov's Twitter activity shows that since Russia's invasion, he has publicly called on a range of high-profile companies – including Microsoft, Apple, Google, Visa, Mastercard and Netflix – to ban Russian access to their products and services. 
CNN reached out to ASUS for comment. According to Taiwan's state-run Central News Agency, ASUS said earlier on Saturday it "would not respond at this time." 
Last Tuesday, Taiwan senior officials said it will join moves to block some Russian banks from the SWIFT international payments system, and it will "scrutinize" products exported to Russia in accordance with the Wassenaar Arrangement – which regulates export controls for weapons and dual-use goods and technologies – and won't permit such exports "unless there are legitimate reasons."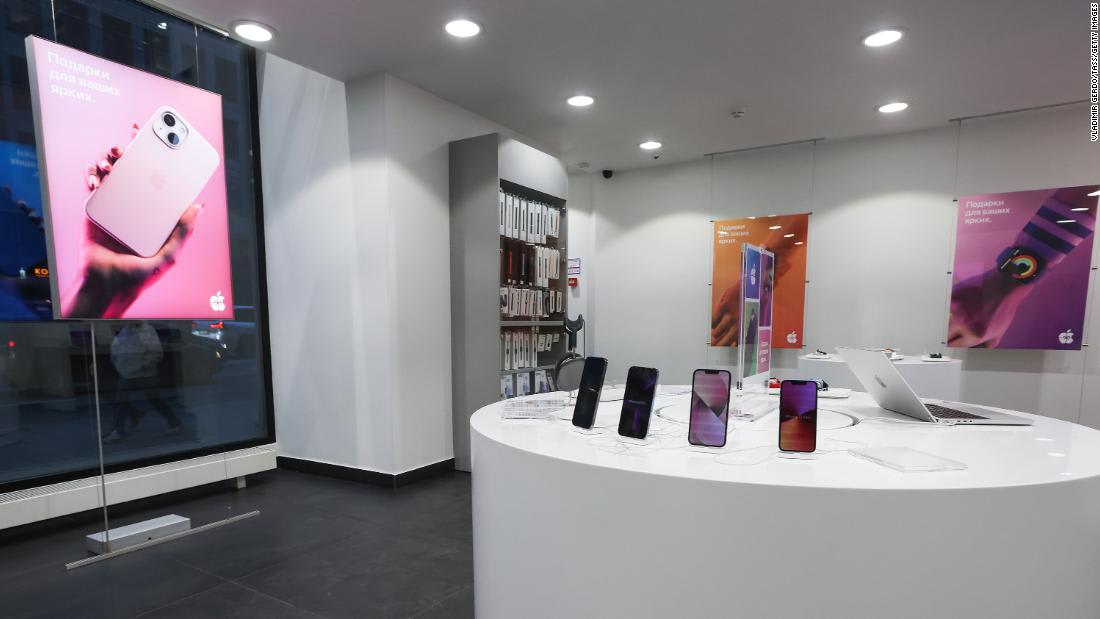 6 hr 29 min ago
French and German leaders urge immediate ceasefire in call with Putin
From CNN's Nadine Schmidt in Berlin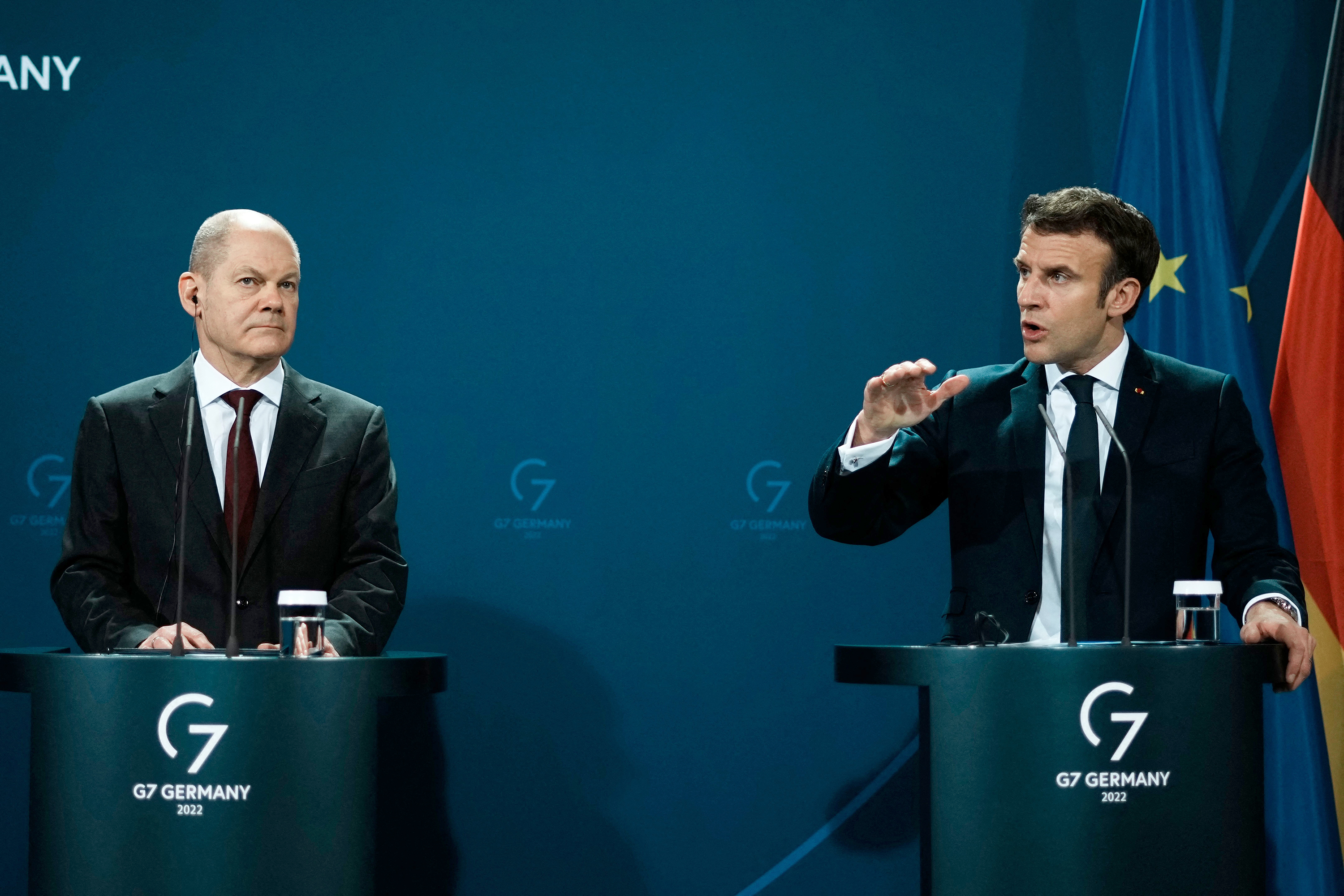 German Chancellor Olaf Scholz and French President Emmanuel Macron urged Russian President Vladimir Putin to call an immediate ceasefire in Ukraine during a 75-minute call on Saturday. 
Macron and Scholz also appealed to Putin to "move toward a diplomatic solution to the conflict," according to German government spokesperson Steffen Hebestreit.
He said the conversation was part of ongoing international efforts to end the war in Ukraine. The two sides agreed not to disclose any further details of the talks, he added.
Scholz spoke to Ukrainian President Volodymyr Zelensky prior to the call with Putin about his "assessment of the current situation," and "they agreed to remain in close contact," according to the spokesperson.   
6 hr 42 min ago
Vatican says it's available for "any kind of mediation" to help stop war in Ukraine
From CNN's Lindsay Isaac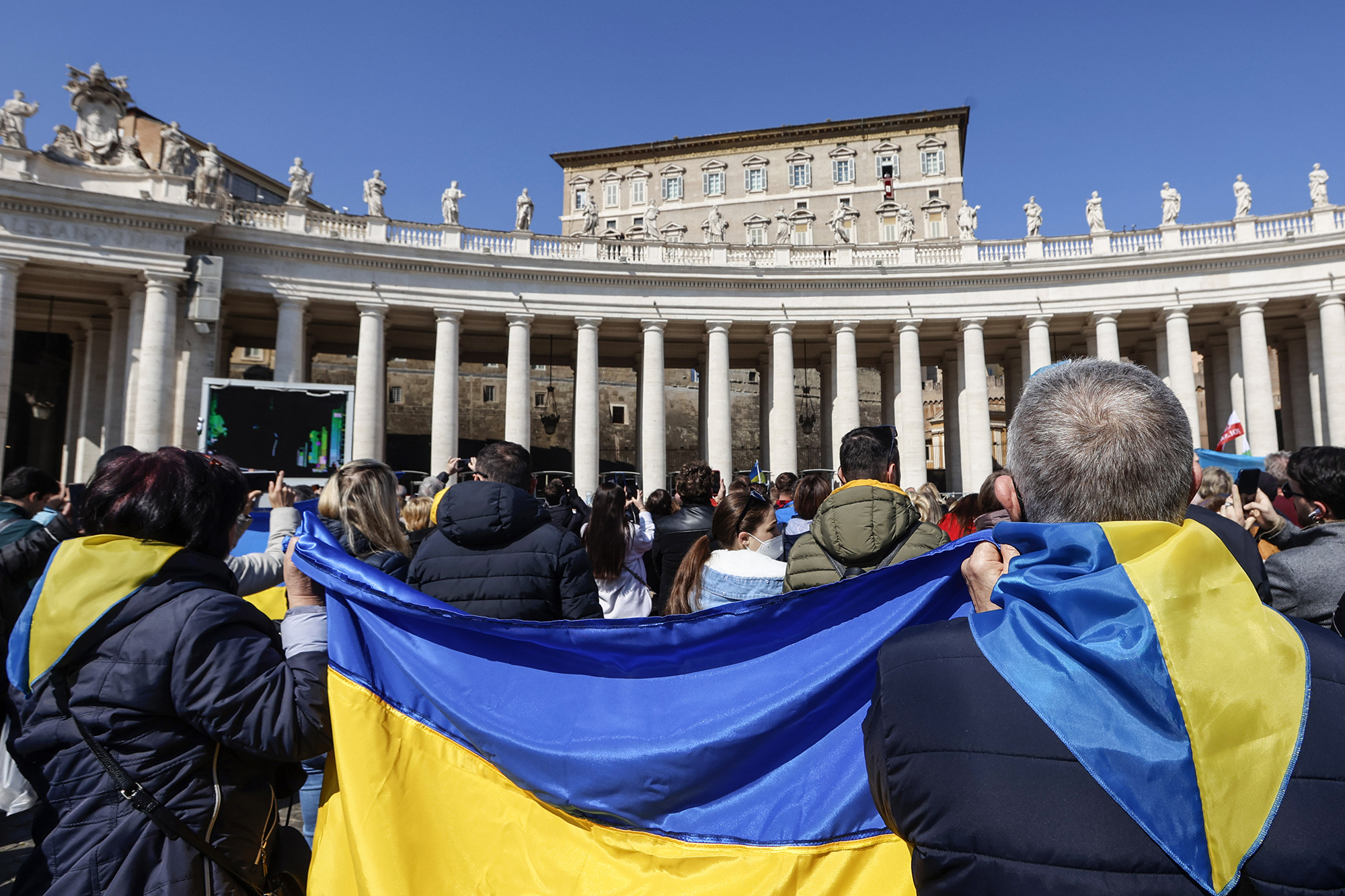 The Vatican is willing to do "everything possible" to assist in reaching a ceasefire and brokering an end to the war in Ukraine. 
The Holy See is "available for any kind of mediation," said Cardinal Pietro Parolin, the Vatican's secretary of state, in an interview with Vatican News.
Parolin repeated Pope Francis' appeal for an immediate ceasefire in Ukraine during a telephone conversation with Russian Foreign Minister Sergey Lavrov this week. 
"I asked for an end to the fighting and for a negotiated solution to the conflict. I insisted on respect for the civilian population and on humanitarian corridors," Parolin said, and he repeated the Pope's rejection of Moscow's claim that the war is a military operation. "Words are important, and to define what is happening in Ukraine as a military operation is to fail to recognize the reality of the facts. We are facing a war, which unfortunately claims many civilian victims, as all wars do." 
The Pope's "unprecedented gesture" of visiting the Russian embassy to the Vatican the day after the invasion of Ukraine was a "personal step" in order to "express to the authorities in Moscow his concern about the escalation of the war," Parolin said. War is "madness," he said, and appealed to the "consciences" of all people involved to cease fighting immediately.
"We have before our eyes the terrible images coming from Ukraine. The victims among the civilians, women, elderly people, and defenseless children who have paid with their lives for the folly of war. The anguish grows as we see cities with gutted houses, no electricity, sub-zero temperatures, lack of food and medicine, as well as millions of refugees, mostly women and children, fleeing the bombs. Over the last few days, I have come across a group of them, who have arrived in Italy from various parts of Ukraine: blank stares, faces without smiles, endless sadness. … What is the fault of those young mothers and their children? We would have to possess a heart of stone in order to remain impassive and allow this havoc to continue, as rivers of blood and tears continue to flow. War is a barbarity," he said.
It is "never too late," to make peace, he urged. "It is never too late to retrace one's steps and find an agreement."
8 hr 14 min ago
Zelensky claims Ukraine is inflicting "biggest blow to the Russian army in decades"
From CNN's Eleanor Pickston in London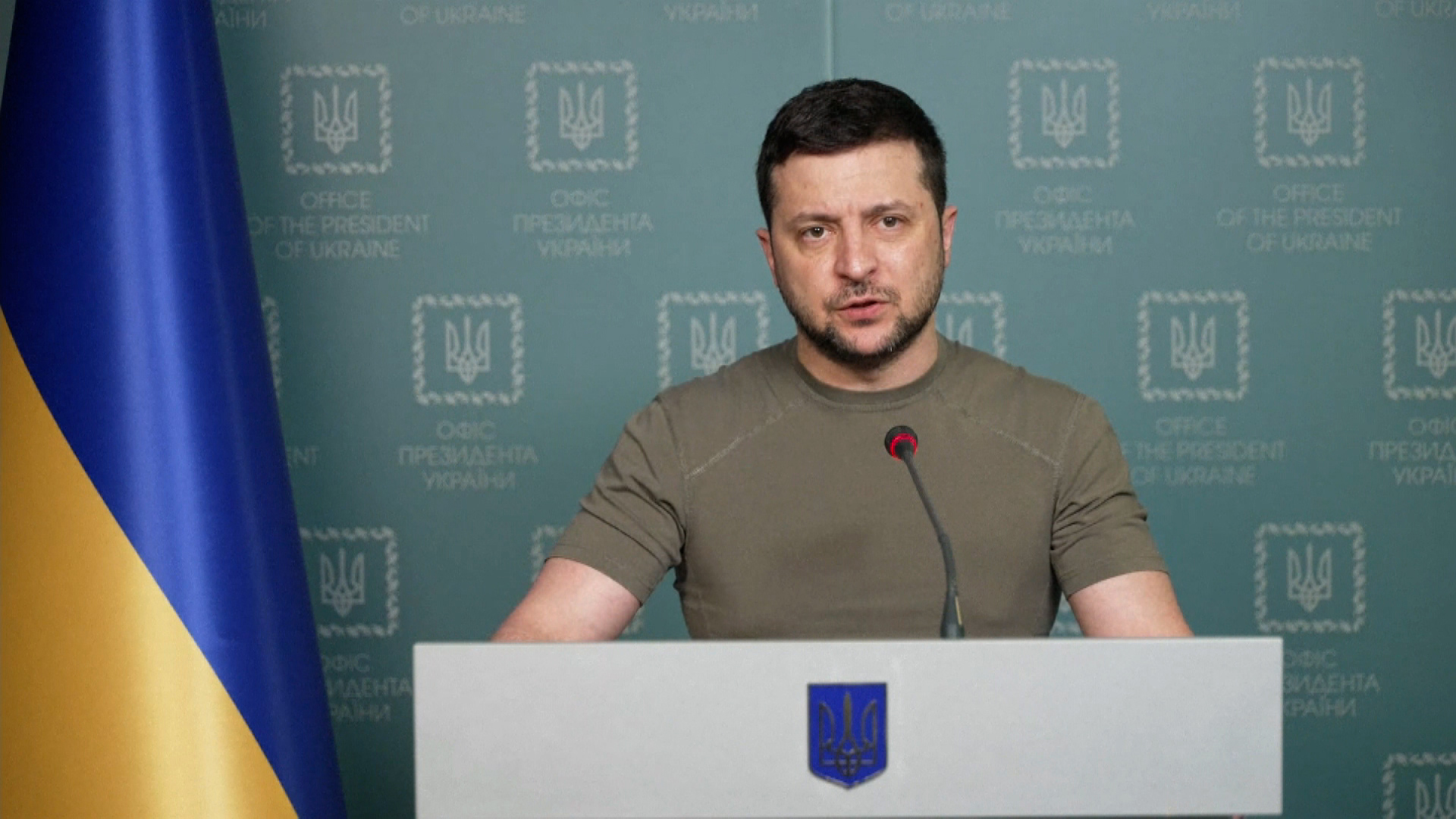 Ukrainian President Volodymyr Zelensky has claimed that Ukrainian forces are inflicting the "biggest blow to Russia's army in decades." 
In a Facebook video address Saturday Zelensky said 31 Russian tactical battalion groups have lost capability, and more than 360 Russian tanks have been lost.
Zelensky added that groups of Russian troops were surrendering to Ukrainian forces, but that Russia is now recruiting fighters, reservists, conscripts, and mercenaries to "outnumber" Ukrainian forces.
They are using terror to break us, to break our faith in Ukraine's victory, I am confident they will not succeed," Zelensky added. 
Addressing the city of Mariupol, Zelensky said that Ukrainian forces will guarantee a ceasefire along the evacuation corridor out of the city to allow supplies into the city, and to facilitate civilian evacuations.
Zelensky's remarks come after a Russian airstrike on Mariupol's maternity and children's hospital on Wednesday left 17 people injured, including children, women and doctors, according to Mariupol city officials. Three people died, the city council said Thursday, among them, a child.
A pregnant woman, Mariana Vishegirskaya, whose rescue from the Mariupol maternity hospital this week was captured in a viral AP photo, has since given birth to a baby girl, her family confirmed to CNN. 
CNN's Tim Lister, Laura Smith-Spark, Olga Voitovych, Rob Picheta and Gianluca Mezzofiore contributed reporting to this post.
8 hr 49 min ago
Flying on Russian planes is about to get much more dangerous
From CNN's Chris Isidore
As Russia's economy gets pummeled by increasingly severe western sanctions for its invasion of Ukraine, the country's crucial airlines have been essentially cut off from much of the world.
But that is the least of the industry's problems. Russia's domestic airline industry could soon become a mere shell of its former self due to restrictions on its operations.
Sanctions imposed by the United States and the European Union mean that the world's two major aircraft makers, Boeing (BA) and Airbus (EADSF), can no longer supply spare parts or maintenance support for Russian airlines. The same is true of jet engine makers.
"Within a year Russia will cease to have any kind of viable airline industry," said Richard Aboulafia, managing director of AeroDynamic Advisory.
He said the country's airline industry could soon find itself somewhere between the heavily sanctioned industries in Iran and North Korea.
That poses a serious problem for Russia's overall economic activity.
Russia is the world's largest nation by landmass, more than twice the size of the continental United States. It needs to have a viable airline industry to keep its economy working, said Charles Lichfield, the deputy director of GeoEconomics Center at the Atlantic Council, an international think tank.
"It is an important part of Russia's economy. They need that backbone. They need some basic domestic [airline] industry to remain in place," Lichfield added.
Read the full story:
8 hr 48 min ago
Call between Putin and French and German leaders is underway
From CNN's Melissa Bell in Paris
French President Emmanuel Macron and German Chancellor Olaf Scholz have started a call with Russian President Vladimir Putin over the war in Ukraine, an Elysée source told CNN on Saturday.
The three men previously spoke on Thursday when Macron said that the conditions put forth by Russian President Vladimir Putin for a ceasefire in Ukraine were "not acceptable to anyone," without specifying what Putin's conditions were. 
Macron has spoken frequently to Putin in the last month but has had little success in deescalating the crisis.
6 hr 15 min ago
Italy's finance police seize Russian oligarch's mega yacht
From CNN's Nicola Ruotolo and Paul P. Murphy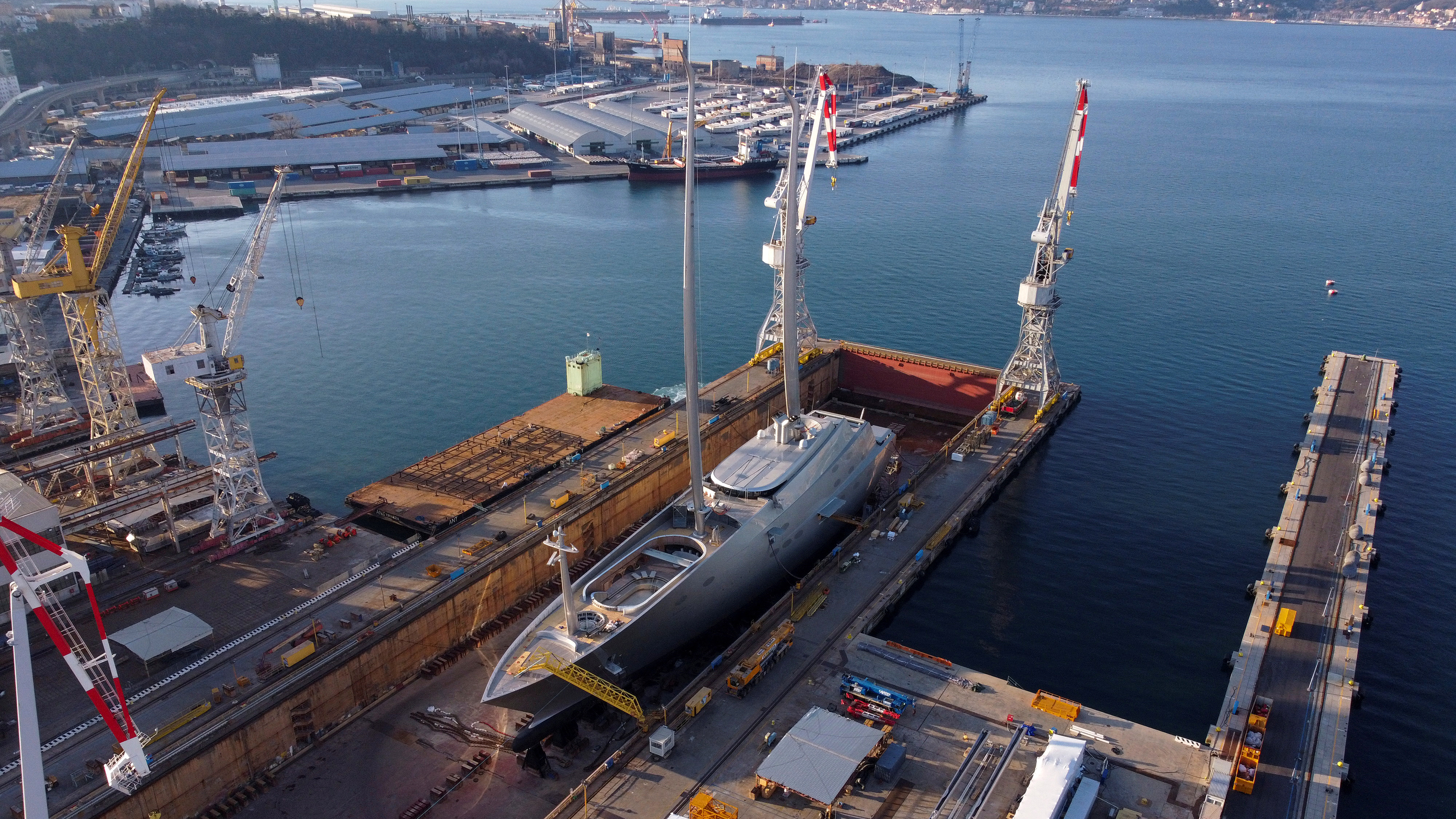 The Italian finance police seized Russian oligarch Andrey Melnichenko's mega yacht in Trieste, Italy on Friday evening.
The Guardia di Finanza made the announcement in a statement released on Friday evening. Called "SY A," the yacht was in storage at the Port of Trieste, the statement said.
It's worth approximately 530 million euros ($578 million), the statement added. It is one of the largest superyachts in the world, according to the manufacturer Nobiskrug.
Video published by the finance police shows agents boarding the yacht.
Melnichenko was sanctioned by the European Union on March 9 as part of expanded sanctions on Russian oligarchs. According to the EU, he owns the major fertilizer producer EuroChem Group and SUEK, a coal company. 
In the EU's Council decision, which authorized sanctions against Melnichenko, they noted he and 36 other business leaders met with Russian President Vladimir Putin after the invasion into Ukraine to discuss the potential economic impact of EU and American sanctions.
"The fact that he was invited to attend this meeting shows that he is a member of the closest circle of Vladimir Putin and that he is supporting or implementing actions or policies which undermine or threaten the territorial integrity, sovereignty and independence of Ukraine, as well as stability and security in Ukraine," the EU Council decision reads. 
"It also shows that he is one of the leading businesspersons involved in economic sectors providing a substantial source of revenue to the government of Russia, which is responsible for annexation of Crimea and ​destabilization of Ukraine."
On Saturday, Melnichenko spokesman Alex Andreev told CNN that the Russian oligarch removed himself from the board of both Eurochem and SUEK (companies he founded) after the EU sanctioned him. Andreev also said that Melnichenko was also no longer the "beneficiary" of the companies, in a statement to CNN.
When asked by CNN if Melnichenko had any comment on the situation in Ukraine, Andreev declined to provide additional comment and instead pointed towards his initial emailed statement to CNN.
"Andrey Melnichenko is an international self-made entrepreneur. He has no relation to the tragic events in Ukraine. He has no political affiliations," Andreev said in that statement. "There is no justification whatsoever for placing him on the EU sanctions list. We will be disputing these baseless and unjustified sanctions, and believe that the rule of law and common sense will prevail."
The news comes as numerous Russian elites have been scrambling to move and sell assets amid Russia's invasion of Ukraine.
Just days after Russian oligarch and Chelsea FC owner Roman Abramovich announced that he would sell the football club, the UK added the 55-year-old to its list of sanctioned individuals as part of its efforts to "isolate" Putin.
On March 3, France's finance ministry announced the country had seized a yacht owned by Russian oligarch and CEO of Russian oil giant Rosneft Igor Sechin.
The European Union had sanctioned Sechin earlier that week, describing him as one of Putin's "most trusted and closest advisors, as well as his personal friend."
CNN's Kara Scannell, Jessica Schneider, Amy Woodyatt and Niamh Kennedy contributed reporting to this post.
38 min ago
Zelensky demands immediate release of detained Melitopol mayor
From CNN's Eleanor Pickston in London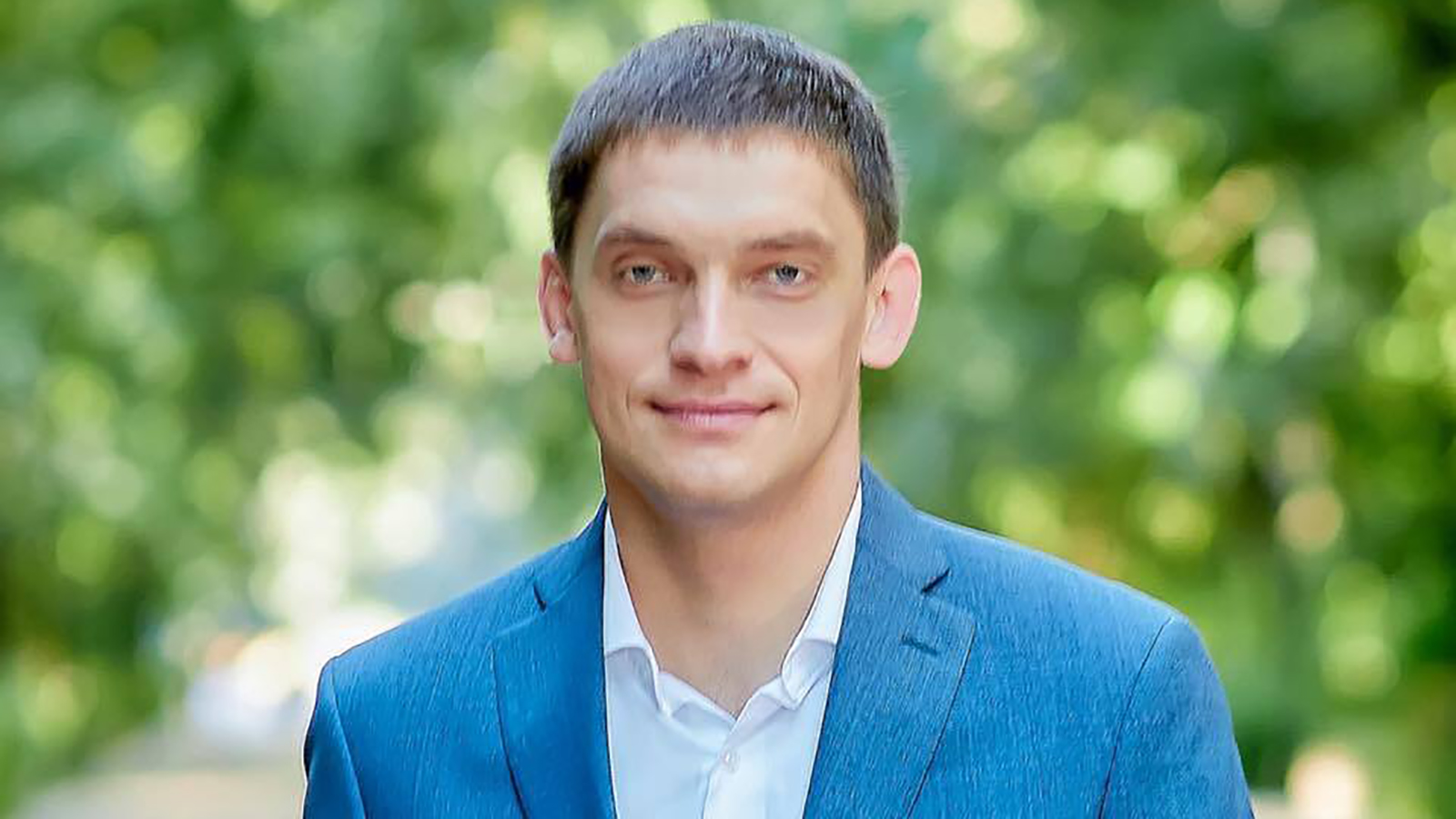 Ukrainian President Volodymyr Zelensky called for the immediate release of Ivan Fedorov, the mayor of the city of Melitopol who was arrested by armed men on Friday.
In a video address Saturday, Zelensky said: "Yesterday the occupiers abducted the mayor of Melitopol, the public demands his release."
Our demand is simple, his immediate release."
Shortly after Fedorov's detention, the Russian-backed Luhansk regional prosecutor claimed that the mayor had committed terrorism offenses and was under investigation.
Melitopol is currently under Russian military occupation. 
Zelensky said he had spoken to the leaders of France, Germany, Israel about securing mayor Fedorov's release. 
Earlier on Saturday, hundreds of people protested outside Melitopol's city hall, demanding his release, according to Ukrainian state TV video.
9 hr 37 min ago
Vladimir Putin: The world of sport has shunned the Russian President. So what?
From CNN's Amy Woodyatt
As Russia continues its invasion of Ukraine, a plethora of international sports organizations and governing bodies have also responded by targeting Russia and its athletes with sanctions of varying severity, and Russian President Vladimir Putin has been stripped of multiple honorary sporting titles.
Notably Russian and Belarusian athletes were not allowed to compete at the 2022 Winter Paralympics in Beijing. The International Olympic Committee (IOC) also announced that it had withdrawn the Olympic Order — the highest award of the Olympic movement — from Putin.
Meanwhile, world football's governing body, FIFA, and European soccer body, UEFA, have suspended all Russian international and club teams from their competitions "until further notice."
"Vladimir Putin has been passionate about both sports and using sport to project Russia's importance on the world stage and giving back to the Russian people a sense of pride in their success on the world stage," Michael Payne, former head of marketing at the IOC, told CNN.
Payne added that the most immediate impact of sanctions could be to challenge the Kremlin's narrative on the conflict.
There can be no misunderstanding: no amount of control of the Russian media is able to explain what's going on in the sports world, that they've suddenly been banished," Payne said.
"Sanctions may cause ordinary Russians to ask why can't they see their Russian athletes performing? And clearly, then there's prompting the Russian people to say 'What's going on?'" Payne added.
​"Will Putin care about having to give his Olympic gold order back or what the rest of the international world thinks of him? Probably not.
"Will he care about what all the local Russians are saying, 'Hang on, what is going on?' Absolutely."
Read more here: