3 min ago
Polish ambassador to US says sanctions on Moscow should "last for a decade"
From CNN's Emmet Lyons and Nicholas Pearce in London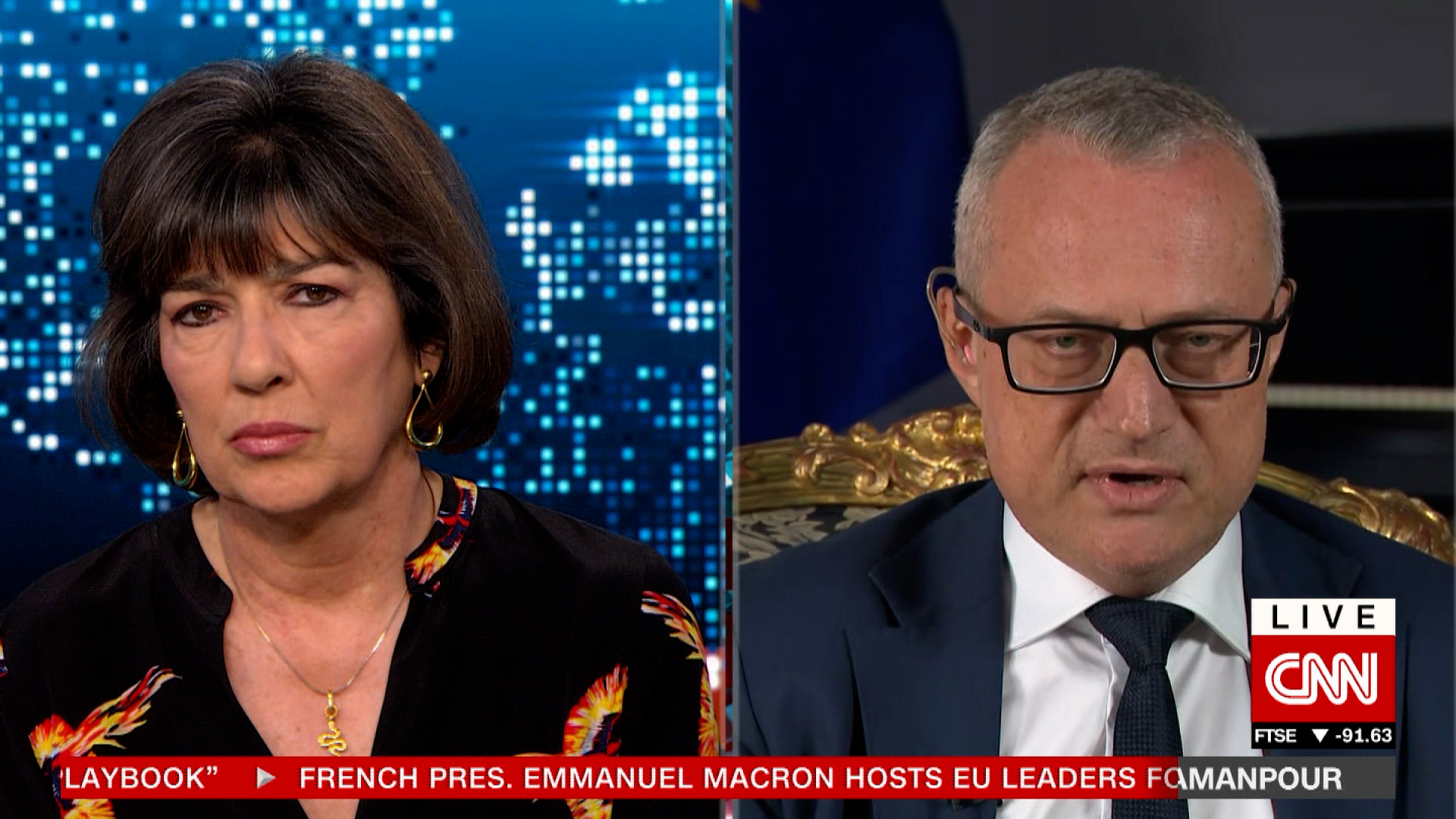 Poland's Ambassador to the United States, Marek Magierowski, told CNN Thursday that sanctions on Russia should "last for a decade, maybe 15 years" following Moscow's invasion and assault on Ukraine.  
"I think that if we wanted to retaliate for that invasion against Ukraine with punitive measures and by crippling the Russian economy, we have to be determined and ready to uphold the sanctions in a longer term. Maybe they should last for a decade, maybe 15 years, because I'm afraid we are going to live with Mr. Putin for many years to come," Magierowski told CNN's Christiane Amanpour in an interview.    
Magierowski said that Russian forces have committed "acts of barbarism in Ukraine" that he said were "war crimes, atrocities." 
"I do believe and I am confident that Mr. Putin and his cronies and all his closest aides will end up in the dock, in the Hague, in the International Criminal Court, because this is what he has already fully deserved," he said.    
When pressed on Poland not sending MiG-29 fighter jets to Ukraine, Magierowski told Amanpour that it was not a feasible strategy for the Polish government.  
"We could not, and we cannot deplete the arsenal of our aircraft by one-third without any back up and compensation," he said.  
The Pentagon said Wednesday that it is bluntly opposed to a Polish plan to provide fighter jets to Ukraine. Poland's initial proposal, which officials verbalized Tuesday, was to deploy all its MiG-29 fighter jets to help Ukraine in its fight against Russia — but by first sending the jets to US Ramstein Air Base in Germany, also a NATO nation.
"We decided to put the aircraft at the disposal of the US government and transfer them. We announced our willingness and our readiness to transfer these aircraft to the NATO air base in Germany," Magierowski said. "The proposal has been rejected by our American partners who have come to the conclusion that it could be too escalatory and too risky, and actually this is what we were saying at the beginning of the debate about the Soviet made fighter jets at our disposal."  
US Secretary of Defense Lloyd Austin said Wednesday the intelligence community came to the conclusion that "the transfer of MiG-29's to Ukraine may be mistaken as escalatory and could result in significant Russian reaction that might increase the prospects of a military escalation with NATO."
Magierowski admitted to Amanpour that it's "very hard to foresee a situation in which Russia would start making serious concessions," in any diplomatic talks, but said that he did not believe that Putin's forces were currently succeeding on the ground in Ukraine.  
"Russia is losing this war right now. Not only in the hearts and mind of Europeans and Americans or the societies of the so-called free world but Russia is losing this war literally," Magierowski told CNN.  
"I don't know whether we will find a diplomatic solution, but maybe a military solution… I believe the Ukrainian army is capable of defeating the Russian army right now," he said.  
25 min ago
Russian armored military train appears on second rail line in Ukraine
From CNN's Paul P. Murphy, Natalie Gallon, Gianluca Mezzofiore and Nick Paton Walsh
A Russian armored military train has appeared on a rail line in Ukraine's Kherson region on a separate and unconnected line about 100 miles away from where an armored military train was spotted heading toward Melitopol.
CNN has geolocated and verified the authenticity of the videos.
In the videos, which have been published on social media in the last 24 hours, the hallmark gun cars and armored train engines are seen moving west into central Kherson.
At least one bulldozer is seen on the videos sitting on a flatbed train car.
One resident within Kherson confirmed they had personally seen the train on Thursday in Kherson. CNN is not naming the residents over concerns for their safety.​
The resident told CNN that they observed a number of military vehicles on the train. ​
On Tuesday, CNN reported that a Russian armored military train, carrying at least one military vehicle, was seen heading north on another train track in southeastern Ukraine near Novooleksiivka, Ukraine. Both armored military trains — the one in Novooleksiivka and in Kherson — came from Crimea​, based on eyewitness footage CNN verified from social media.
Russia​'s apparent ability to utilize and move the armored trains freely around ​parts of southern Ukraine speaks to their uncontested control of the area south​ of the Dnieper River in the broader Kherson region. It could also​ indicate that they are solidifying their resupply lines from bases in Russian-annexed Crimea, and deeper in Russia, for their military operations in southern Ukraine.
In northern Ukraine, Russian military advances have been repeatedly hampered by Ukrainian military forces taking out a number of supply and logistics convoys.
What Russia is saying: TV Zvedza, the press service for the Russian Ministry of Defense, claimed on Tuesday that an armored train in Ukraine ​was transporting ​non-Russian foreign nationals out of​ the country and into Russian-annexed Crimea. Russian state media outlet Russia-1 claimed in a report on Wednesday evening that the foreign nationals were transported​ from the Kherson region to Armyansk, Crimea.
Armyansk ​has direct rail links to Kherson, but in territory controlled by the Russians, and that line does not intersect with the sole line that goes to Novooleksiivka. 
CNN's Mariya Knight contributed reporting to this post.
21 min ago
Former Ukrainian president publishes address to fellow citizens: "Here's to our future. For our freedom."
From CNN's Alla Eshchenko, transcribed by CNN's Mariya Knight
Former Ukrainian President Leonid Kuchma, who led the country from 1994-2005, published an appeal to the Ukrainian people Thursday.
The appeal was published on the Facebook page of Kuchma's press secretary Darka Olifer.
Here is the full (translated) text of the statement:
My dear Ukrainians! 
We are of different ages and gender, we are of different blood and faith, but all of us today have one name — Ukrainians.
And I am proud to share this name with you.
In my entire life, I have never felt so much pride, pain and anger as I have during these days.
Although sometimes it seems that both our land and our hearts have been burning in fire not for 15 days but for eternity.
Russians have been bombing Kharkiv and Chernihiv, Sumy and Kyiv, Zhytomyr and Mykolayiv for eternity.
Ukrainian children and women in labor have been killed on Putin's orders for eternity.
The brutal siege of Mariupol has been going on for an eternity.
For eternity, the residents of Irpen, Bucha, and Vorzel have been hiding in basements from Russian Nazi shelling.
For all eternity, the whole world has seen the superhuman courage of our soldiers, the dedication of our volunteers, the resilience and unity of civilians.
Invincibility and willingness to sacrifice always live in our hearts. It's just like a volcanic eruption: it's hard to wake up, but it's impossible to contain. No one ever can stop our people when they rise for freedom of their homeland.
Here's to our future. For our freedom.
I'm staying at home, in Ukraine, because all of us are on our native land, there's no other. And to defend it we will all be together until the victory itself. No division on party columns, no personal interests and old faces. United around the Flag, Army, President.
Ukraine is not Russia. And it will never become Russia. Can't wait.
We are already winning. And it's not going to stop.
And to the address of the Russian Federation I will only say that I am joining the words of my compatriots who in one voice say: You be damned!            
Glory to Ukraine!
Glory to Ukrainians!
55 min ago
Ukraine doing "everything possible" to restore electricity to Chernobyl nuclear plant, energy minister says
From CNN's Anastasia Graham-Yooll
Ukraine's energy minister Herman Halushenko said the country is doing "everything possible" to restore the electricity supply to the Chernobyl nuclear power station "as soon as possible."
Halushenko's comments came Thursday via a statement posted to the Ukrainian energy ministry website. The Energy Minister stressed that electricity is needed to maintain the cooling mechanisms at the storage facility for used nuclear fuel.
The minister explained that there are several power lines for the plant, with the last one "destroyed as a result of the occupant's shelling" on Wednesday. The International Atomic Energy Agency (IAEA) said it had been informed by Ukraine that Chernobyl had lost power, but that it saw "no critical impact" on the plant's safety.  
"For the sake of [the] safety of Ukraine or Europe, and for the whole world, the [Russian] military has to leave the nuclear facilities," Halushenko said.  
Halushenko went on to suggest that the Organization for Security and Cooperation in Europe and IAEA missions should be placed at the nuclear facilities.
"Nuclear terrorism is not only when the nuclear stations are being targeted. It is when the staff is under great pressure, and a single mistake can have extensive repercussions," Halushenko warned.
The minister thanked the staff at the Chernobyl and Zhaporizhzhia power stations for their "truly heroic" work under "physical and phycological pressure from the occupants."
28 min ago
On the ground: This Ukrainian mother had to leave her own family to save her foster children
From CNN's Sara Sidner and Anna-Maja Rappard
Oksana remembers how she knew the Russian attacks had started in Ukraine. It was about four in the morning when she heard a massive blast. Her adrenaline spiked. She shook her husband awake and said: "Kolya, there is a war!"
Suddenly the household was frantic. They started to seal the windows to keep the glass from shattering inwards, but Oksana knew that wasn't enough. They had to get down to the basement. It was by no means a bomb shelter. It was never built for that. But it would have to do. There was no time to go anywhere else.
It wasn't just Oksana and Kolya. She also cares for orphans and foster children in Brovary, just outside the Ukrainian capital of Kyiv, for SOS Children's Villages.
"A child started to scream," Oksana told CNN. "I was trying to calm him: 'look at me, breathe, we're gonna seal the windows, everything is under control. Now we need you to stop the panic and help us,'" she said she told him.
War forces a grim choice: Tatyana, another Ukrainian woman involved with SOS Children's Villages, managed to escape the war with her six foster children, without them hearing the bombing. But she had to make an awful decision. Stay in Ukraine with her family or leave and save her foster kids.
"I have a daughter and mother in Ukraine, I am worrying so much, but these children should be saved," Tatyana said from the SOS Children's Village in Bilgoraj, Poland, which lies close to the Ukrainian border and is taking in evacuees.
"My daughter is an adult already, I asked her if she wants to come to Poland as well, but she doesn't want to," she said, adding that her daughter wanted to stay to fight against the Russians.
Tatyana decided to foster children because she had always wanted a big family. Now that family has been forced apart.
One girl who has been mothered by Tatyana since she was just one year old was with her as we were talking. Now 13, she seems calm and has a sweet smile for strangers before opening up about her feelings.
"I'm anxious, scared," she said. "I'm worrying for my relatives, for all Ukrainians."
Read the full story here.
1 hr 12 min ago
UN estimates 549 civilians have been killed in Ukraine since Russian invasion began 
From CNN's Amy Cassidy
At least 549 civilians have been killed in Ukraine since Russia's invasion began on Feb. 24, according to the latest figures from the United Nations Human Rights Office (OHCHR). 
The figures, compiled up to Wednesday and published Thursday, said 957 others have been injured so far, but the UN agency believes the real numbers are "considerably higher," particularly in government-controlled areas.   
"The receipt of information from some locations where intense hostilities have been going on has been delayed and many reports are still pending corroboration," the statement read. 
"This concerns, for example, the towns of Volnovakha, Mariupol, Izium where there are allegations of hundreds of civilian casualties. These figures are being further corroborated and are not included in the above statistics," the statement read.
1 hr 30 min ago
Turkey's Erdogan discussed "shared concern" about Ukraine in a call with Biden
From CNN's Betsy Klein
As Turkish President Recep Tayyip Erdogan continues his attempts to position himself as the broker between Russian President Vladimir Putin and the West, he spoke by phone with US President Joe Biden.
They discussed "their shared concern about Russia's unprovoked and unjustified invasion of Ukraine," according to a statement from the White House. 
"They reaffirmed their strong support for the government and people of Ukraine, underscored the need for an immediate cessation of Russian aggression, and welcomed the coordinated international response to the crisis. President Biden expressed appreciation for Turkey's efforts to support a diplomatic resolution to the conflict, as well as Turkey's recent engagements with regional leaders that help promote peace and stability," the statement read. 
The two also discussed "opportunities to strengthen bilateral ties," it added.
White House press secretary Jen Psaki described the call as "constructive" and "lengthy," saying they spoke for roughly an hour. She declined to say whether they discussed access to the Black Sea.
57 min ago
US and Canada "stand in solidarity" in outrage toward Russia, Vice President Harris says
From CNN's Kevin Liptak
The United States and Canada "stand in solidarity" in outrage toward Russia for its invasion of Ukraine, Vice President Kamala Harris said in a meeting Thursday with Canadian Prime Minister Justin Trudeau.
Harris and Trudeau were both in Warsaw, Poland, for talks about the ongoing war and met Thursday evening after a full day of events and meetings.
Harris described her mission as reaffirming the NATO alliance and the US commitment to Ukraine, as well as to the people of Poland, who are welcoming refugees by the millions.
She also said she would discuss security and humanitarian assistance with Trudeau, who has been visiting Europe this week.
Trudeau described the Biden administration as "strong" on the issue of the Ukraine war, which he deemed "unthinkable." He also said Russian President Vladimir Putin underestimated the Ukrainian people.
Harris and Trudeau didn't respond to questions. The meeting was Harris' last of the day.
On Friday, the vice president will greet US and Polish troops in Warsaw before traveling onward to the Romanian capital of Bucharest.
1 hr 38 min ago
British PM says he fears Russia may use chemical weapons in Ukraine, as it's "straight out of their playbook"
From CNN's Amy Cassidy
British Prime Minister Boris Johnson on Thursday echoed fears from US officials this week in predicting that Russia may use chemical weapons in Ukraine, saying that it's "straight out of their playbook".  
"The stuff that you're hearing about chemical weapons, this is straight out of their playbook," Johnson said in an interview with British broadcaster Sky News. 
"They start saying that there are chemical weapons that have been stored by their opponents or by the Americans. And so when they themselves deploy chemical weapons – as I fear they may – they have a sort of a maskirovka [Russian military deception] of a fake story ready to go," he added.  
Johnson continued: "I just note that that is what they're already doing. It is a cynical, barbaric government, I'm afraid."
Foreign Secretary Liz Truss this morning also told CNN that the UK is "very concerned" about the potential of Russia using chemical weapons in Ukraine, saying "we've seen Russia use these weapons before in fields of conflict."
Noting Russia's "track record," White House press secretary Jen Psaki on Wednesday warned that Russia could use chemical weapons in Ukraine or manufacture a "false flag" operation that uses them.