California: Radio Caca (RACA), creators behind the United States of Mars (USM), the largest metaverse on the Binance Smart Chain, recorded an increase of more than 50% in the value of its cryptocurrency RACA in the last 30 days. This impressive appreciation surpassed some of the leading cryptocurrencies on the market, such as Bitcoin, which rose by only 3% in the same period, and Ethereum, which was close to 20% up, according to data from Coinmarketcap.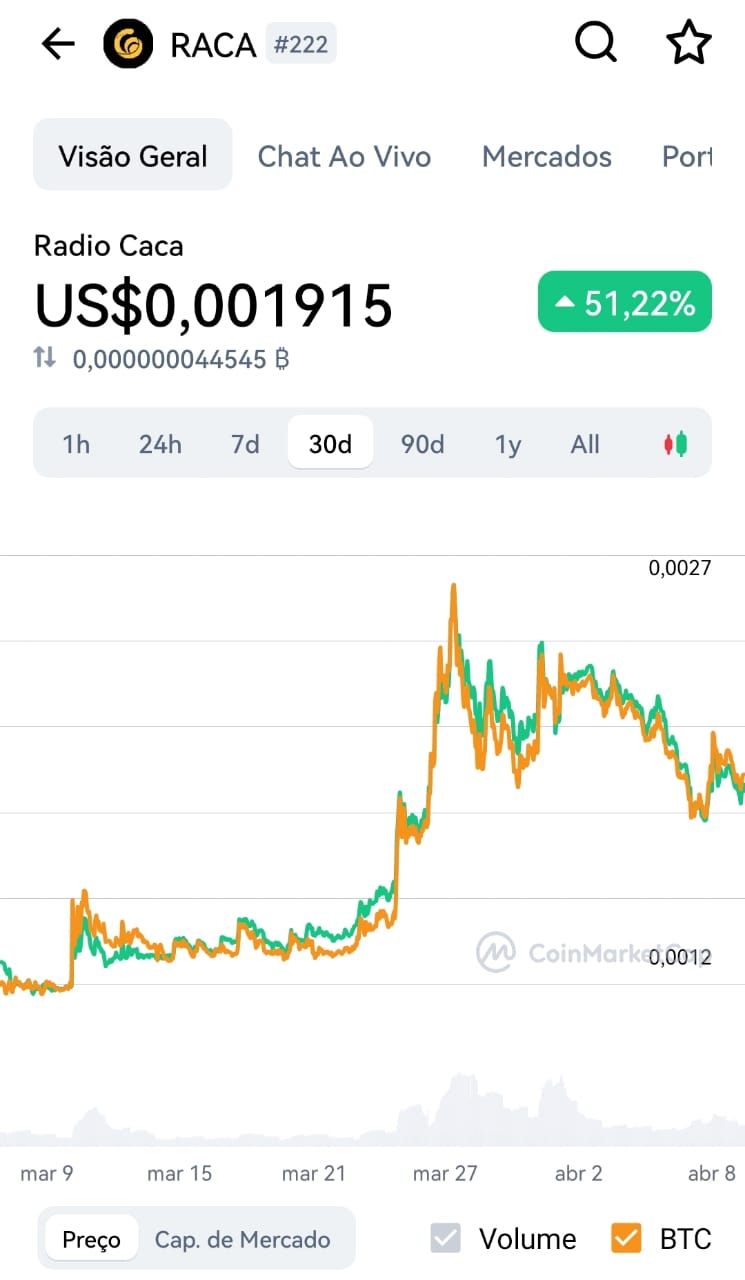 The impressive appreciation of RACA was helped by the various announcements that the crypto asset team made during the month, which included partnerships with some of the largest universities in the world, such as Cambridge University, Istanbul Technical University, University of Hong Kong and Princeton Blockchain Society among others.
Also, in the last seven days alone, some of the biggest cryptocurrency exchanges and service providers have announced the listing of RACA on their platforms due to the growth of Radio Caca and its ecosystems. Among the companies that have announced recent RACA listings are Huobi, ChangeNow, Bybit, and Phemex.
In the case of Huobi, from now on, the exchange's clients can trade RACA at pair with USDT. Additionally, as part of the listing, Huobi is offering RACA staking under the company's Huobi Earn program.
Another significant listing was RACA's listing on ByBit, which also listed RACA on the USDT pair (RACA/USDT) and integrated the token into its staking program.
Also announcing support for RACA was the ChangeNOW crypto swap service, which allows the RACA token to be quickly exchanged for over 350 cryptocurrencies. Also, as part of the integration, the service announced zero fees for any exchange for seven days.
In Phemex, more than 2 million users of the Singapore-based exchange now have access to Radio Caca's cryptocurrency trading on USDT pair (RACA-USDT)
French Montana & OpenPFP
Radio Caca (RACA) recently announced a great partnership with rapper French Montana that includes several actions. Among them is the release of a 2D metaverse called 2D Montega Metaverse that will be inspired by Montana's next album, Montega. The metaverse will be driven by Metamon NFTs included with the NFT album and will be play-to-earn. Additionally, acclaimed rapper and hottest entrepreneur in America, French Montana, will speak on NFT.NYC.
The fourth annual NFT community-leading event will take place June 20-23
at various locations around Times Square, featuring the biggest names in NFTs and blockchain technology.
"NFT.NYC is the perfect partner to complete our conference partnerships. team has been at the forefront of the NFTs since day one, and we are proud to support them in the growth of this community", said Fuming C., Head of Business Development at Radio Caca. "We couldn't think of a better ambassador for this event of the year than French Montana. His impressive discography and influence will bring together music, art, and culture connoisseurs to celebrate what the NFTs have to offer."
French Montana is Radio Caca's latest major metaverse partner. Radio Caca is the creator of the popular play-to-earn blockchain game Metamon World, United States of Mars metaverse (USM), and the massive NFT OpenPFP Marketplace.
In addition to Montana, Radio Caca is also pleased to announce a partnership with Digital Design and Creative Technology, a hub for the digital world of education, NFT exhibitions, and Metaverse events. As part of the partnership, they will be joining the USM Metaverse.
Radio Caca's newest NFT marketplace OpenPFP has announced a partnership with Particlon to allow nesting assets within NFTs and optimize your Metaverse experience. The partnership provided 200 vacancies for those interested in participating in this unique experience in the metaverse. These spots have been taken.
Disclosure: This is a sponsored press release. Please do your research before buying any cryptocurrency.
CryptoMode produces high quality content for cryptocurrency companies. We have provided brand exposure for dozens of companies to date, and you can be one of them. All of our clients appreciate our value/pricing ratio. Contact us if you have any questions: [email protected] None of the information on this website is investment or financial advice. CryptoMode is not responsible for any financial losses sustained by acting on information provided on this website by its authors or clients.