12 min ago
It's 11 p.m. in Kyiv. Here's what you need to know
As a new day nears for Ukraine, these are the latest updates from on the ground:
Russian troops loom near Kyiv: The bulk of Russian ground forces are currently about 15.5 miles from the center of the Ukrainian capital, the UK's Ministry of Defence said Saturday in its latest intelligence assessment.
Significant destruction seen in cities and towns: In Mariupol, satellite imagery showed damage and fires in apartment buildings and gas stations. An emergency coordinator for Doctors Without Borders told CNN that the city is in "the disaster phase now."
In Makariv, a village 30 miles west of Kyiv, apparent Russian airstrikes hit apartment complexes, schools and a medical facility.
Ukrainian President Volodymyr Zelensky said "a few small towns just don't exist anymore. … They are just gone."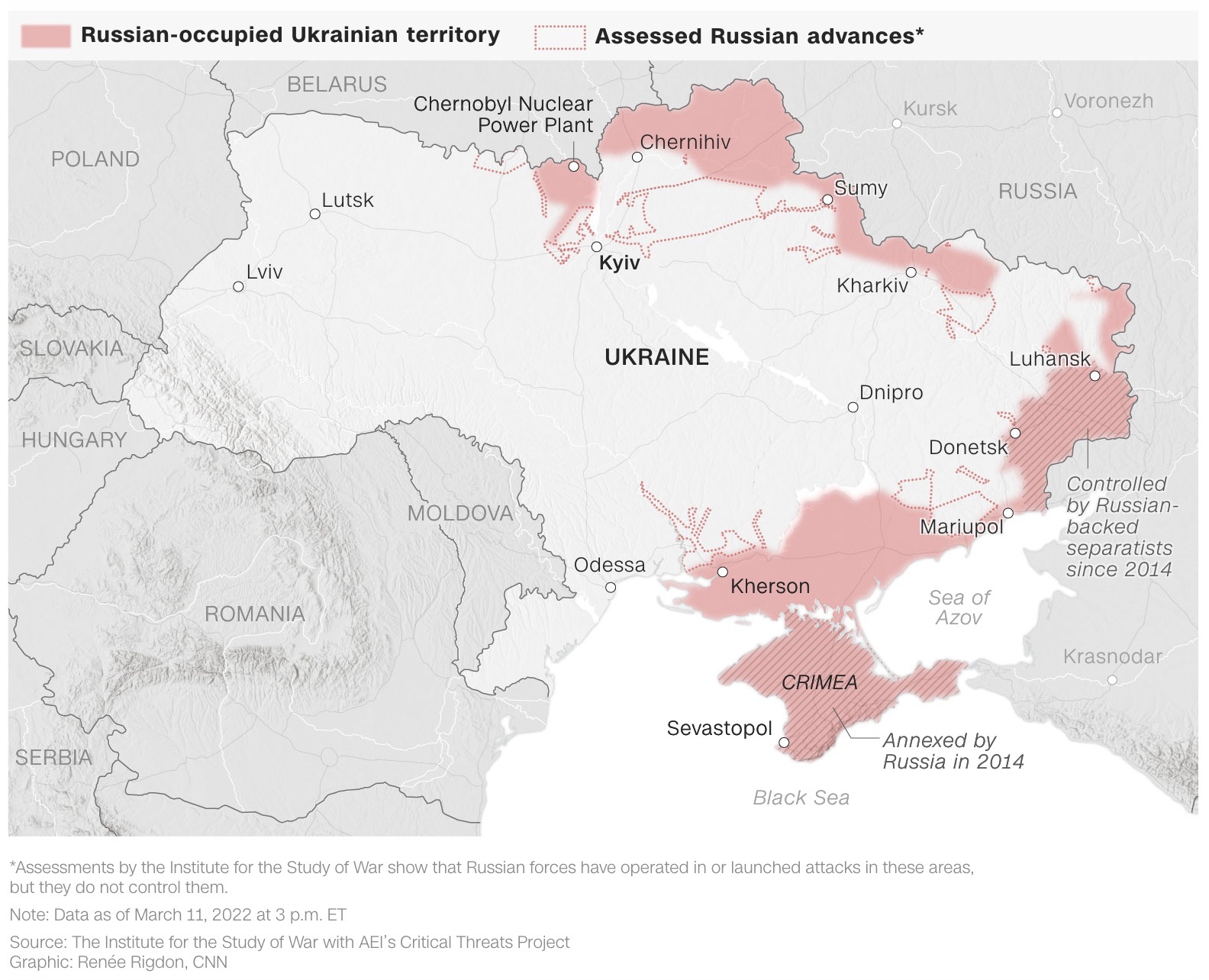 Casualties mount: The United Nations has recorded 1,581 civilian casualties — 579 who were killed and 1,002 injured — since the start of the Russian invasion of Ukraine on Feb. 24. Among the dead are 42 children, with 54 children among the injured, according to the UN's latest report on civilian casualties.
French and German leaders speak with Putin: A French official told CNN that Putin seemed still to be "determined to achieve his objectives in Ukraine" but the fact that he continues to speak to the French and German leaders suggests that "he does not exclude the possibility of a diplomatic solution altogether." Ukrainian Foreign Minister Dmytro Kuleba said he was holding out little hope for a negotiated settlement to end Russia's invasion of Ukraine.
13 min ago
Bipartisan delegation of US senators arrives in Poland, meets with US ambassador and troops
From CNN's Joe Johns and Sarah Fortinsky
A bipartisan US congressional delegation, including Republican Sens. Rob Portman of Ohio and Roger Wicker of Mississippi and Democratic Sens. Amy Klobuchar of Minnesota and Richard Blumenthal of Connecticut, arrived Saturday in Warsaw, Poland, where they met with US Ambassador to Poland Mark Brzezinski and traveled to Rzeszow to meet with US troops from the 82nd Airborne Division.
The delegation plans "to meet with senior government officials and visit refugee sites to affirm the United States' commitment to Poland, Ukraine, and other allies in response to Vladimir Putin's invasion of Ukraine," according to a Saturday news release from Wicker's office.
Senate staff familiar with the trip tell CNN the delegation will also visit the Ukrainian border on Sunday.
16 min ago
US sanctions more Russian elite and others in Putin's inner circle
From CNN's Jennifer Deaton
The US Treasury Department on Friday sanctioned additional Kremlin "elites, leaders, oligarchs" and some of their family members for "enabling Putin's war against Ukraine," the department said in a statement.   
Those sanctioned included three family members of Russian President Vladimir Putin's spokesman Dmitry Peskov, Russian tycoon Viktor Vekselberg and 10 members of the management board of the sanctioned VTB Bank. Also sanctioned were 12 members of the Russian State Duma, including Chairman Vyacheslav Volodin, and the Chairman of Russia's Communist Party Gennady Zyuganov. 
Zyuganov's sanctioning in particular garnered coverage in Russian state media in ensuing hours. He has since responded, calling it a "reward" and validation of his efforts to "create peace" and "struggle against Nazism," echoing Putin's rhetoric for his justification of the Ukraine invasion.
Peskov was sanctioned on March 3 for being the "lead propagandist" of the Russian Federation. But on Friday, Peskov's wife, Tatiana Navka, and two of Peskov's adult children – Nikolay Peskov and Elizaveta Peskova – were also sanctioned. Tatiana Navka, who won a gold medal in ice dancing at the 2006 Olympics, has a "property empire worth more than $10 million," according to the Treasury Department statement.
Two of Vekselberg's luxury assets, an Airbus A319-115 aircraft and a yacht named Tango — each valued at approximately $90 million each — were identified as blocked property, the statement said. 
CNN's Michael Callahan, Maria Angelova and Mariya Knight contributed to this report.
23 min ago
New satellite images show extensive damage in western Mariupol, Ukraine
From CNN's Paul P. Murphy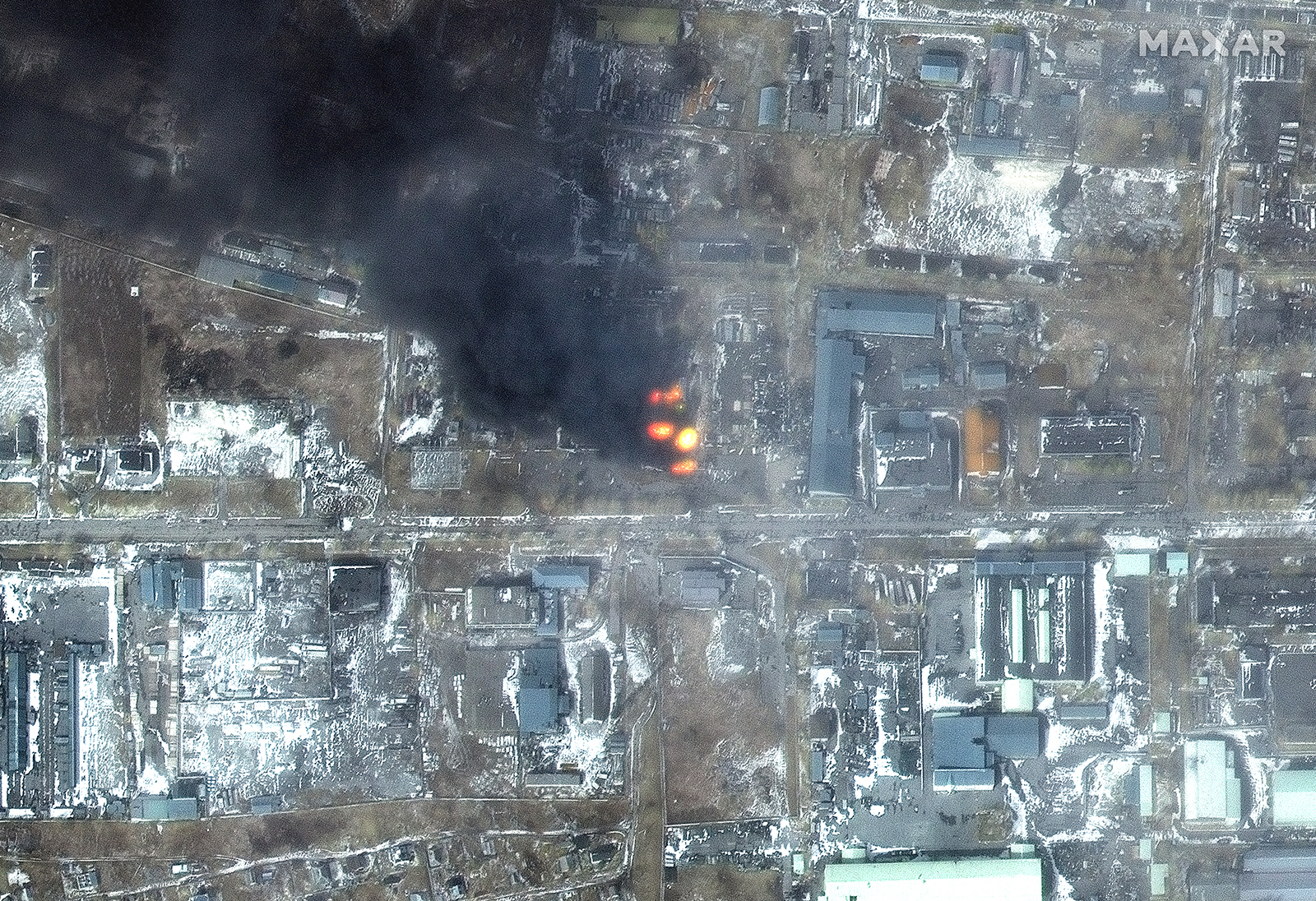 New satellite imagery from Maxar Technologies shows the extent of damage caused by military strikes in western Mariupol. 
The images were taken on Saturday morning.
In Mariupol's western neighborhood of Zhovteneyvi, a large, still smoldering, crater is seen near the Okko gas station. Smoke appears to be rising from an apartment complex across the street. The roofs of warehouses down the street also appear to have large holes in them.
Within the apartment complex, several buildings have sustained significant damage. A debris field can be observed surrounding some of the buildings with a large smoke plume.
A field just northwest of the gas station shows the impact of craters dotting a snow-covered field. Vehicle tread marks are also seen.
Just over a mile south, in an industrial area in the Primorskyi neighborhood, a large fire is seen raging. 
With relatively clear skies over Mariupol, some of the damage that was reported earlier in the week is coming into clearer focus. 
The satellite images show extensive damage at the children's and maternity hospital that was hit by Russian military strikes on Wednesday. 
Mariupol is completely surrounded by Russian and Russian-backed separatist troops. Earlier in the week, CNN published Maxar satellite images that showed significant damage across the city. 
38 min ago
Mariupol is in a "disaster phase now," Doctors Without Borders emergency coordinator says
An emergency coordinator for Doctors Without Borders told CNN that the humanitarian situation in the Ukrainian city of Mariupol is deteriorating by the day.
"We have staff, MSF [Medecins Sans Frontières] staff, who are currently in Mariupol who we've been able to keep contact with, although that contact is getting harder and harder to keep every day. They confirmed to us there's been no access to clean drinking water for over a week now," Alex Wade told CNN's Jim Acosta.
"They're using snow and rain water, they're breaking into heating systems to access the water in heating systems, but for many, water has already run out and so has the food for many people. The only people left with food are those who have stocks that they're rationing," he said from Vinnytsia, Ukraine.
"I think we can say we're in the disaster phase now," he added.
Staff on the ground in Mariupol have told Wade that people are dying from lack of access to medicine, He said.
"The next phase we will see people who potentially could die from dehydration and hunger or … fleeing from the city trying to find food and water and dying from the violence outside the city," he said.
Wade said there's a "sense of panic" in the city right now.
"We had communication with a staff member today who was telling us that they've [been] … taking the dead bodies of their neighbors and burying them in their own yards, just so that their own neighbors will have a burial and not remain dead on the streets," he said.
While evacuation corridors were slated to take place for the city Saturday, the lack of available communication hampers safety efforts, he said.
"When there are discussions around humanitarian corridors or safe passage out of the city, many people are uninformed and they don't know about it because there's no communication inside the city. There's no phone network. There's no internet," he said.
1 hr 32 min ago
Significant destruction seen in Makariv, a Ukrainian village 30 miles west of Kyiv
From CNN's Paul P. Murphy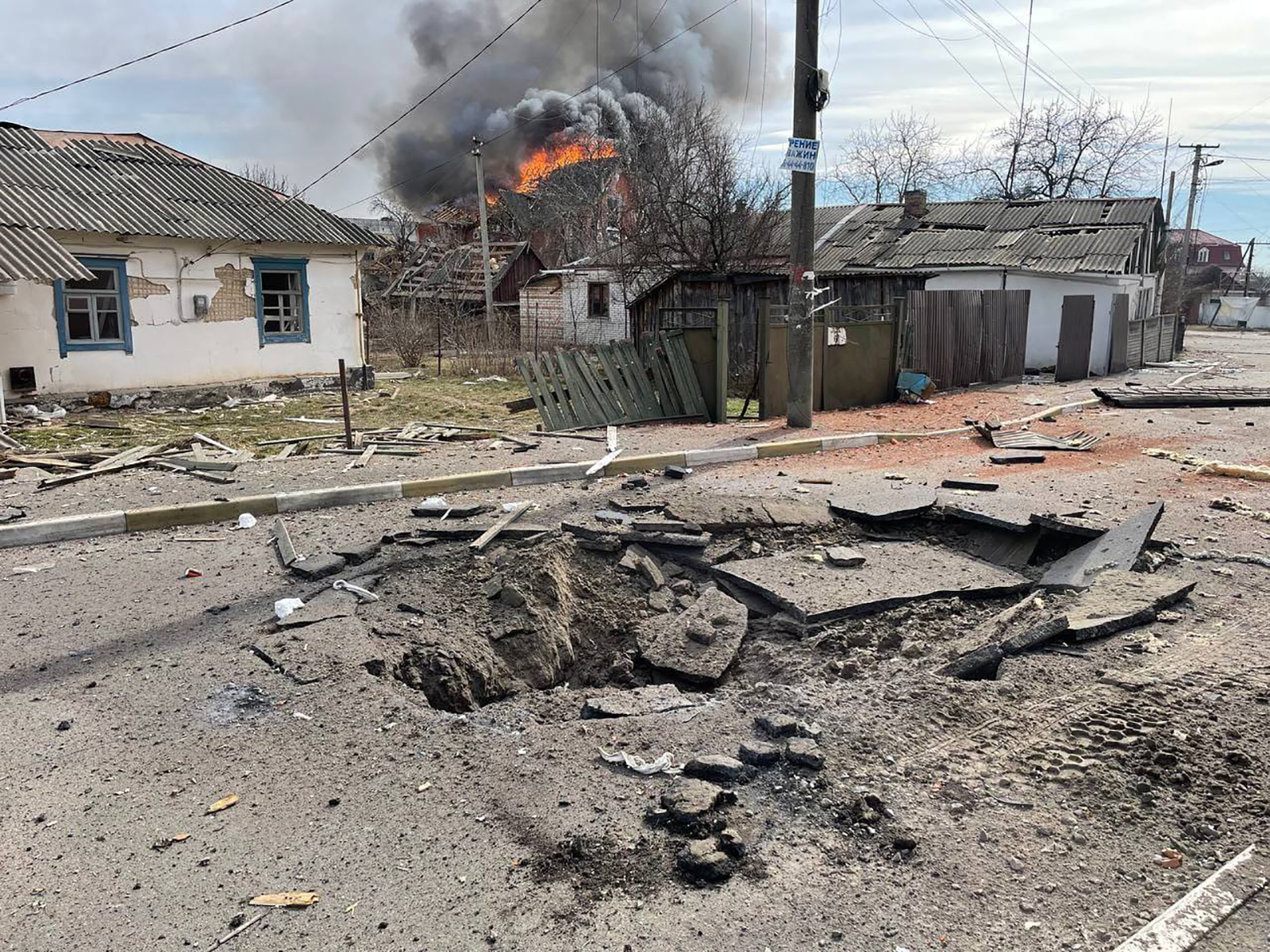 A large swath of Makariv, a village 30 miles west of Kyiv, has sustained significant damage from apparent Russian airstrikes.
CNN geolocated and verified the authenticity of photos posted to social media on Saturday, which show major damage to apartment complexes, schools and a medical facility.
A stark image from Makariv shows a large hole in the northern wall of an apartment building. Many of the buildings in the photos have sustained damage on their northern facades, evidence that points to military strikes that hit them being Russian.
Several hundred feet east of that apartment building, a kindergarten also sustained significant damage.
Smoke can be observed still billowing up from the building, the roof has completely caved in and the windows have all been blown out. 
The Russian Ministry of Defence has repeatedly claimed they are not targeting civilians.
At another apartment building just west of the school, another photo shows the roof and a number of upper floor residences destroyed.
Just south of the school, the Adonis-Makariv Medical and Diagnostic Center is seen on fire. The street in front of it is littered with debris and the windows have been blown out of the center.
A photo taken on the street in front of the center showed that the debris in front of it is all that remains of the north-facing front facade of the building.
Immediately west of the school and medical center, near the center of Makariv, a massive crater was observed in the road. The medical center can be seen in the background on fire. Next to that crater, another photo shows a residential building with a grocery store on the ground floor has been hit.
In the center of town, a cultural center that also houses government and police offices has been hit by a strike. A portion of the building was destroyed and a structure on the roof appeared to have been clipped by some sort of munition.
"Glory to Ukraine! Glory to the heroes" was written on a large sign in the front of the building.
South of central Makariv, a preschool also sustained significant damage. The windows have been blown out and portions of the roof appear to be damaged.
2 hr 19 min ago
Moscow Stock Exchange will not resume trading next week, Russian Central Bank says
From CNN's Pierre Meilhan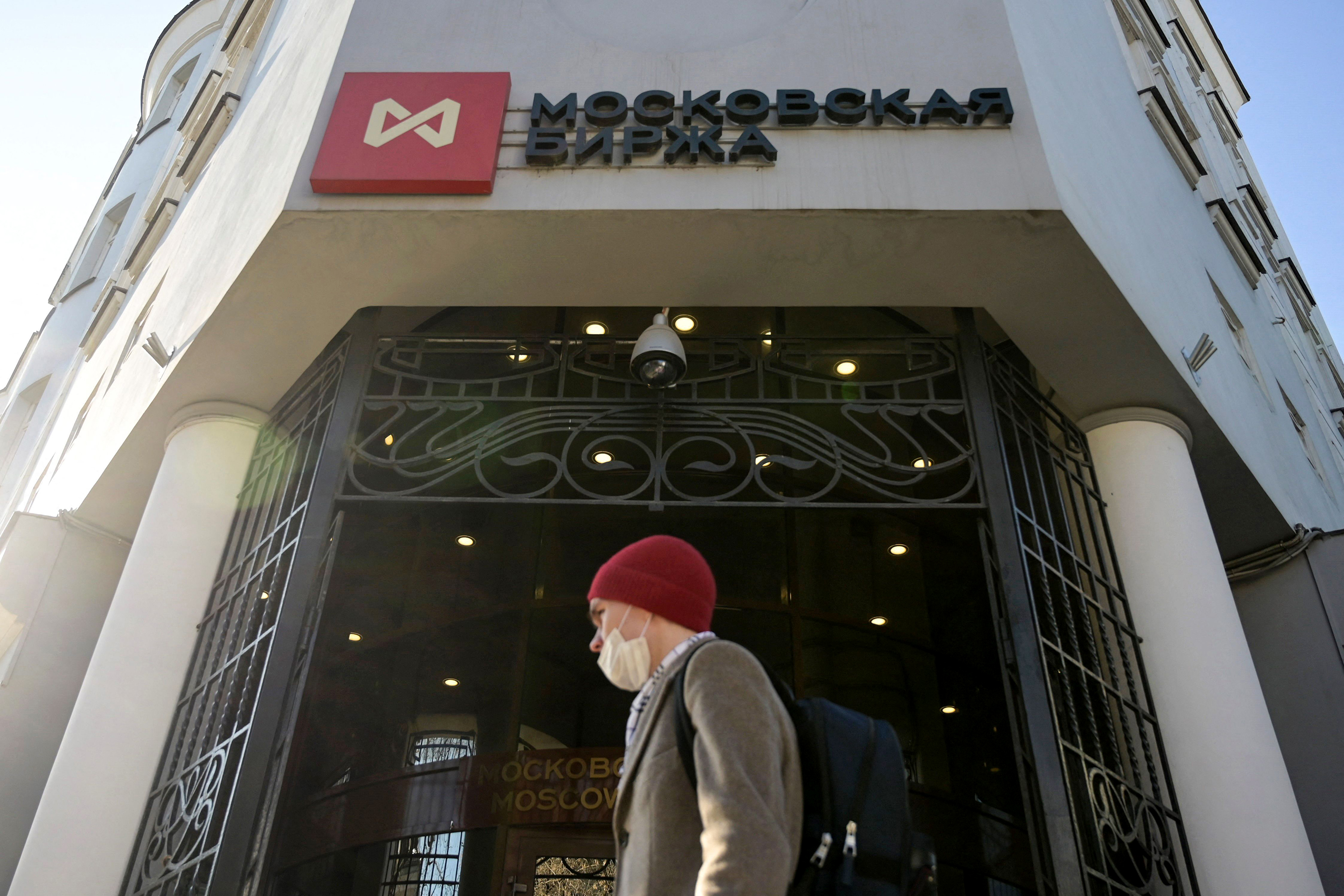 Russia's Central Bank said Saturday it will not resume trading on the Moscow Stock Exchange in the equity market during the week of March 14.
The Bank of Russia also said via its website that the foreign currency market will reopen at 10 a.m. local time (2 a.m. ET) on Monday and commodity trading will also resume then. 
As for stock market operations during the week of March 21, the central bank indicated that it will make an announcement at a later date.
The exchange has been closed since Russia's invasion of Ukraine, as the United States, European Union and other Western allies imposed sanctions and the Russian ruble plunged to record lows against the US dollar.
2 hr 55 min ago
US vice president warns that Russia's invasion of Ukraine threatens democracy across Europe
From CNN's Sam Fossum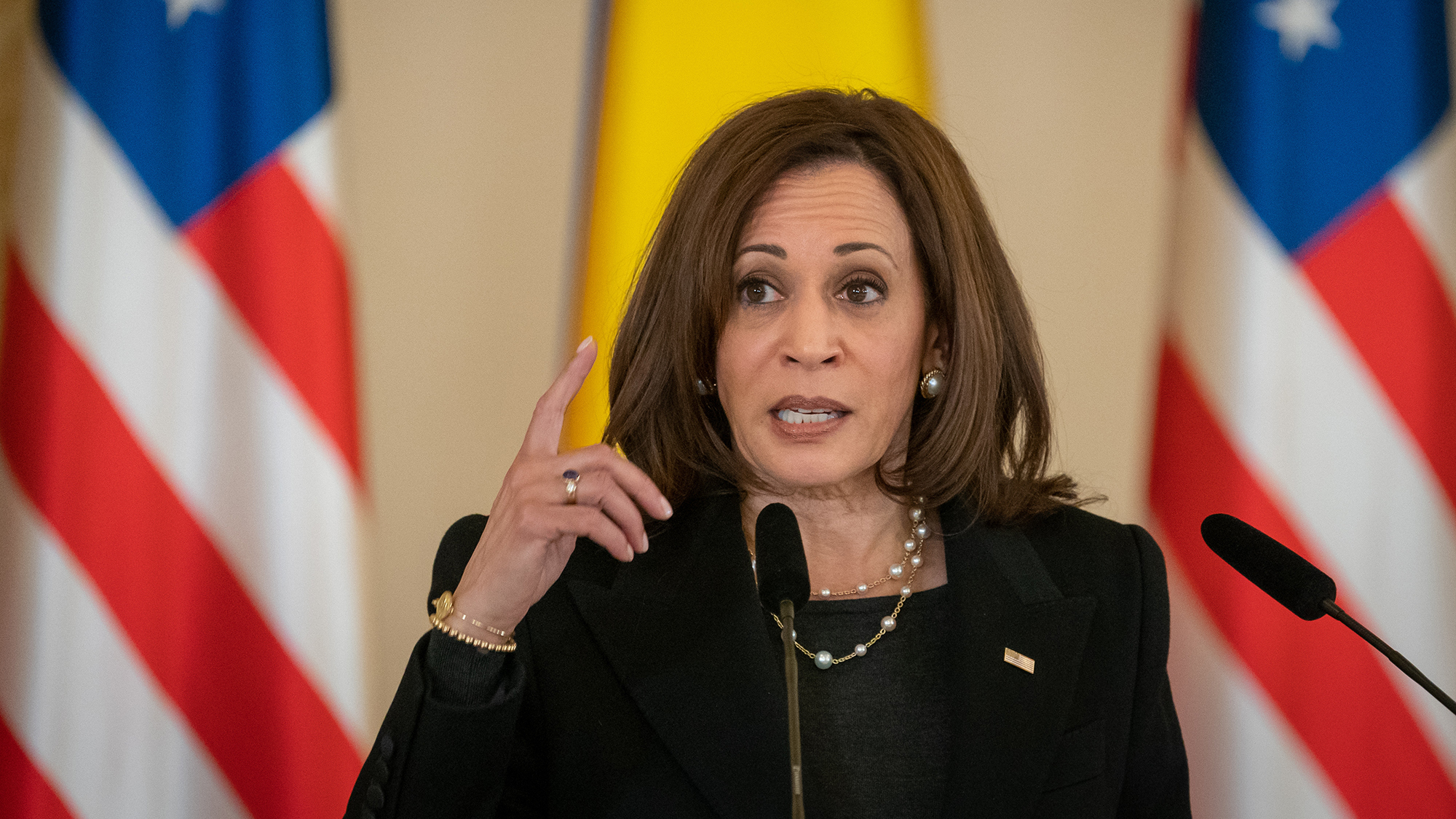 US Vice President Kamala Harris highlighted the unity between the US and its NATO and European allies and warned that Russia's unprovoked invasion of Ukraine poses a threat to all democracies.
"Russia's invasion threatens not just Ukraine's democracy; it threatens democracy and security across Europe," Harris said at the Democratic National Committee's winter meeting on Saturday in Washington, DC.
"The ocean that separates us will not leave us untouched by this aggression," she said.
Harris, speaking about her recent trip to Poland and Romania, said she emphasized that the "greatest strength" of the alliance is its unity.
"The United States stands firmly with the Ukrainian people in defense of the NATO alliance," Harris said to applause from the crowd.
Harris also told the attendees about meeting with a Moroccan student who had fled Ukraine and the plight of millions of refugees fleeing the Russian onslaught.
3 hr 3 min ago
Ukraine's foreign minister doubtful about prospects for negotiated settlement with Russia
From CNN's Tim Lister in Kyiv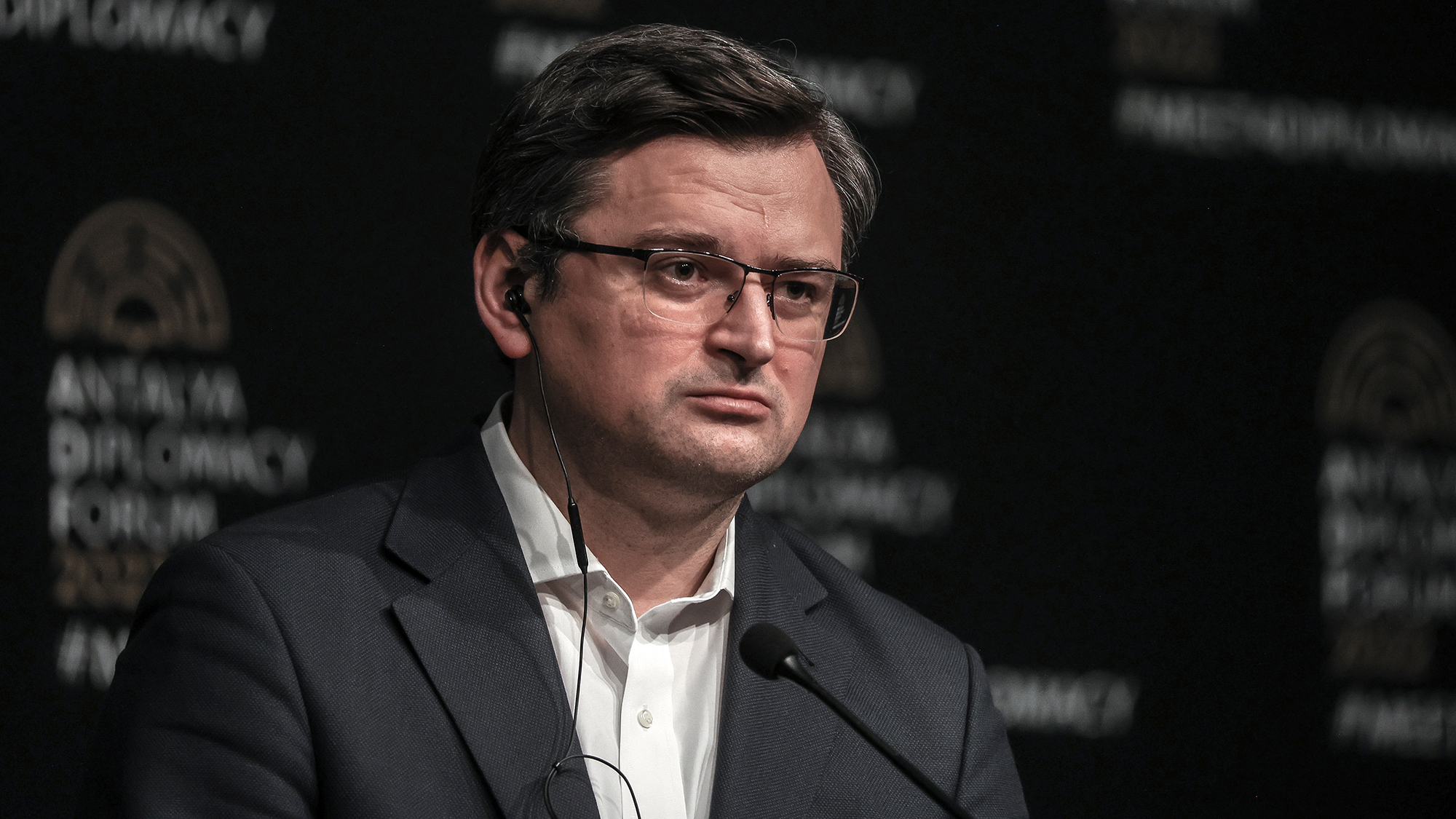 Ukrainian Foreign Minister Dmytro Kuleba is holding out little hope for a negotiated settlement to end Russia's invasion of Ukraine.
"There is little space for diplomacy in [Russian President Vladimir] Putin's mind," he told a US policy forum. "We have to keep the channel of diplomacy open," while being aware of "the attempts of Russia to publicly manipulate this track."
"We are talking, but Russia still puts forward demands which are unacceptable for us. We will not make any compromises on the existential issues for Ukraine," he said.
Kuleba's pessimistic outlook coincided with a call among Putin, French President Emmanuel Macron and German Chancellor Olaf Scholz earlier Saturday. 
A French official told CNN that Putin seemed still to be "determined to achieve his objectives in Ukraine" but the fact that he continues to speak to the French and German leaders suggests that "he does not exclude the possibility of a diplomatic solution altogether."
Kuleba said he believed the removal of Putin as Russian president would be enough to stop the conflict.
He was grim about the consequences of the war, saying it will make Ukrainians hate Russia. "We will not forgive them for generations," he said.
He also said Belarus' leader Alexander Lukashenko was under enormous pressure from Moscow to commit forces to the invasion.