The future looked bright for Cody Westbrook, 32, from Garrison, Texas. He was about to start a new job at Lockheed Martin. He had also picked out a new puppy; an English bulldog/pitbull mix he named Capone. But on a rainy night in May 2021, everything changed.
Cody and Capone were driving through Rusk County during heavy rain when his truck hydroplaned on the highway, went off the road and struck a tree.
When he regained consciousness, Cody was pinned inside the truck. He couldn't find his phone, but he could reach his pistol, so he fired a few times into the ground to get someone's attention, but the storm was just too loud.
"What eventually saved my life," said Cody, "was putting my Apple AirPods into my ears." The miniature headphones automatically connected to his phone, which had been thrown out of the truck. Still trapped in his truck, he was able to call his stepfather, who then relayed his call to area law enforcement for help.
After four hours of being pinned in his truck, the deputy and ambulance finally arrived. "The last thing I remember before blacking out was the deputy's siren and the 'Jaws of Life' hitting my truck."
Trauma in the Emergency Department
During the ambulance ride to UT Health Tyler, Cody experienced two cardiac arrests due to the loss of blood from the accident. The emergency department physicians did everything they could to save his legs, but there was too much damage. Both legs were amputated: one above the knee and the other one below.
Five days later, Cody woke up with a tube in his mouth and was surrounded by his family. In addition to the severe trauma to his legs, Cody suffered a compound fracture of his arm, a torn tendon and a broken collarbone. Treatment also included dialysis for a month to remove waste products and extra fluid from his blood.
Cody would spend the rest of 2021 healing from his injuries and starting rehabilitation at the UT Health East Texas Rehabilitation Center in Tyler. By February 2022, Cody was healed enough to be fitted with prosthetic legs, which actually increased his height.
"I was 6' 3" before the accident, but I am 6' 5" now with my new legs on," said Cody. "Since I have such a long AK size (above knee amputation), they may be able to drop me an inch, but I can't be any shorter than about 6' 4"."
It did take him a little while to get used to the prosthetics. "At first it was a chore, but now it's like putting on a pair of shoes."
Working hard at the Rehabilitation Center
In March, Cody was able to start his second stint of rehab at the UT Health Rehabilitation Center, this time as an inpatient with two prosthetic legs.
"Rehab is going well," he said. "Within two weeks, I was making 5-10 trips down the parallel bars without any assistance. Now I'm walking down the bars at least 20 times a day. I always work out at least three hours a day. The staff is going above and beyond, I guess because they see me putting in so much effort."
Cody spends much of the time focusing on strengthening his core muscles, glutes and hips. He will do exercises like planks, stomach crunches and sit-ups.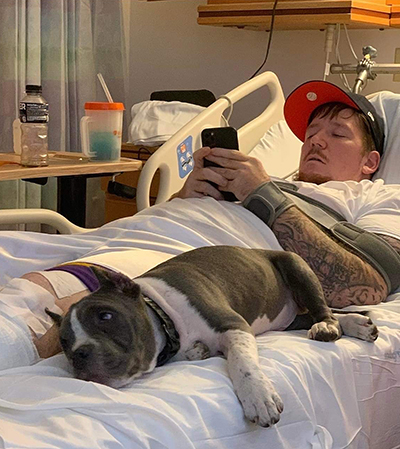 Cody relates how impressed he is with the staff. "These are good people, especially Patrick, Shannon and Jared. If I want to do extra workouts, they'll do them with me. They've been in this profession so long that they're amazingly skilled and know how to challenge patients. They don't make it so difficult that I would give up, but they challenge me every day to get better."
His hard work in the Rehabilitation Center was noticed, even by other patients. "I've had many people tell me I'm an inspiration to them since I'm working so hard. I'm not trying to be, but I'm glad they're taking it that way."
When asked who inspires him to have a positive, hard-working attitude, Cody quickly said, "my family, and of course Capone."
It turns out that Capone survived the accident "without a scratch on him." Cody said someone in the area fed his dog "for three days and then called the Henderson police station. He was connected to the same dispatcher who also was on duty when my accident occurred. That's how I was able to be reunited with Capone," Cody said.
The future looks bright – with the right attitude
Cody now has new plans for his life. Instead of reapplying to Lockheed Martin, he wants to go to school to become an X-ray technician.
"Someday I want to work at this hospital around these same kinds of people, and perhaps inspire other patients. It's all about giving back. If someone is having a bad day, I would tell them that there are never bad days, just tough ones. It's up to you. You've got the tools. But if you lose it mentally, like wallow in self-pity, you're not going to achieve anything."
With that attitude, Cody is sure to achieve great things.
For more information about the services offered at UT Health East Texas Rehabilitation Center, call 800-338-7293 or visit uthealthrehab.com.