Honey Grove, Texas — Honey Grove proudly bills itself as "The Sweetest Town in Texas" and Saturday afternoon it was the bluest town in the Lone Star State, thanks to an intimate performance by Kirby Kelley at the Honey Grove Library and Learning Center. A master of slide guitar and fingerpicking Delta, Piedmont and Texas blues, Kelley thrilled a small crowd of old-school blues aficionados with an hour-long concert following a discussion about the library's current exhibit, "Buddy Magazine: 50 Years of North Texas Music."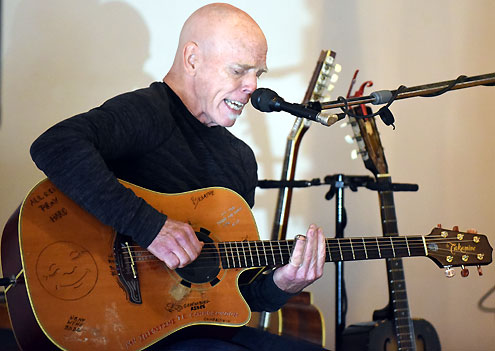 Kirby Kelley
The exhibit features the photography of Ron McKeown, as well as James Bland and Chuck Flores, with spectacular images of legendary Texas guitarists gracing the Buddy Magazine covers that line the walls of a spacious room in the library.
The exhibit is a perfect fit in Honey Grove, a town with a reputation for producing prominent musicians. After all, Honey Grove's own Tyler Bryant has been the subject of multiple interviews in Buddy Magazine.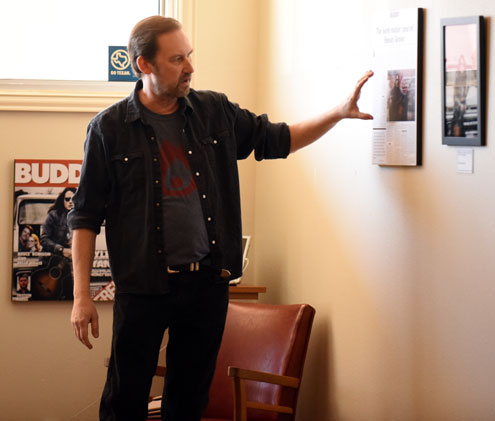 Rob Garner narrates an exhibit by Buddy Magazine.
But it goes back much farther than that. Did you know that Buddy Holly's father was a native of Fannin County?
Lawrence Odell Holley Sr. was born November 14, 1901, in Honey Grove and there are stories of him bringing a young Buddy Holly back to town occasionally to visit friends and relatives. Holly was Texas' first rock and roll superstar, and the moderator of the exhibit, Rob Garner, conjured up images of a young Buddy Holly walking around Honey Grove. 
The music of Kirby Kelley was a perfect segue from the exhibit because Kelley toured with one of the one of the blues guitarists featured on a magazine cover in the exhibit — Bugs Henderson.
The quiet, peaceful setting of the library was a stark difference from the noisy audiences that musicians must often ndure.
"Usually, there is a bottle breaking, someone cursing, someone throwing someone around…I'm not used to this," Kelly remarked before launching into the   traditional gospel favorite, "Jesus on the Mainline."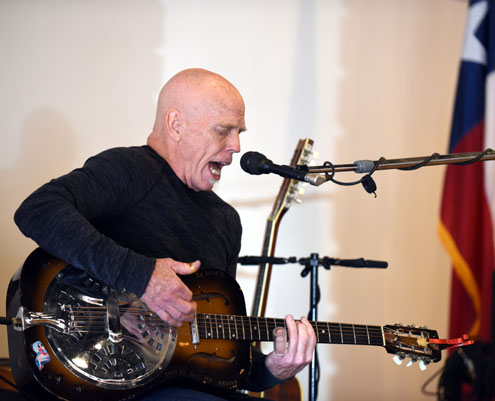 Kirby Kelley
Honey Grove Library and Learning Center will host the exhibit "Buddy Magazine: 50 Years of North Texas Music" through April 29.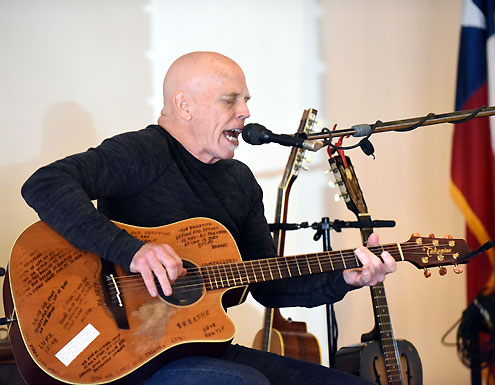 Kirby Kelley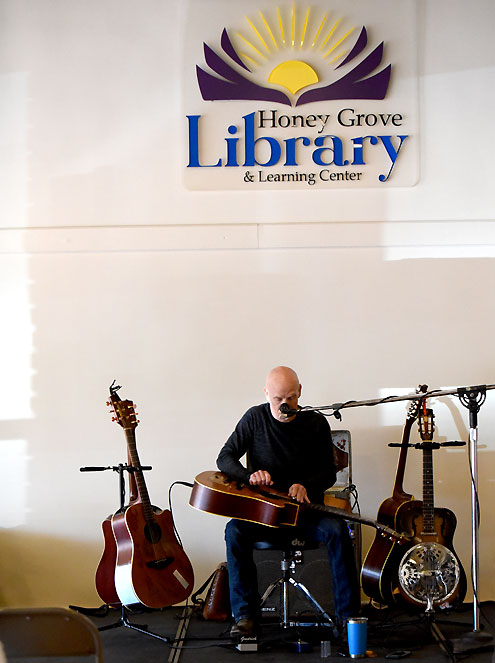 photos by Allen Rich