43 min ago
Blinken authorizes $350 million more in US military assistance to Ukraine   
From CNN's Jamie Crawford
Secretary of State Antony Blinken said Saturday he has authorized $350 million in new US military assistance to Ukraine.
"Today, as Ukraine fights with courage and pride against Russia's brutal and unprovoked assault, I have authorized, pursuant to a delegation by the President, an unprecedented third Presidential Drawdown of up to $350 million for immediate support to Ukraine's defense," Blinken said in a written statement.
"This package will include further lethal defensive assistance to help Ukraine address the armored, airborne, and other threats it is now facing. It is another clear signal that the United States stands with the people of Ukraine as they defend their sovereign, courageous, and proud nation," he added.
As CNN has reported, President Joe Biden instructed Blinken to release up to $350 million in immediate support to Ukraine's defense, according to a memo released by the White House Friday. 
This is the third drawdown of money. Previous drawdowns have been for $60 million and $250 million, putting the total over the last year at more than a billion dollars, according to an administration official. 
49 min ago
Russia defense ministry denies its missile struck Kyiv residential building, state news agencies say
From CNN's Vasco Cotovio and Nathan Hodge in Moscow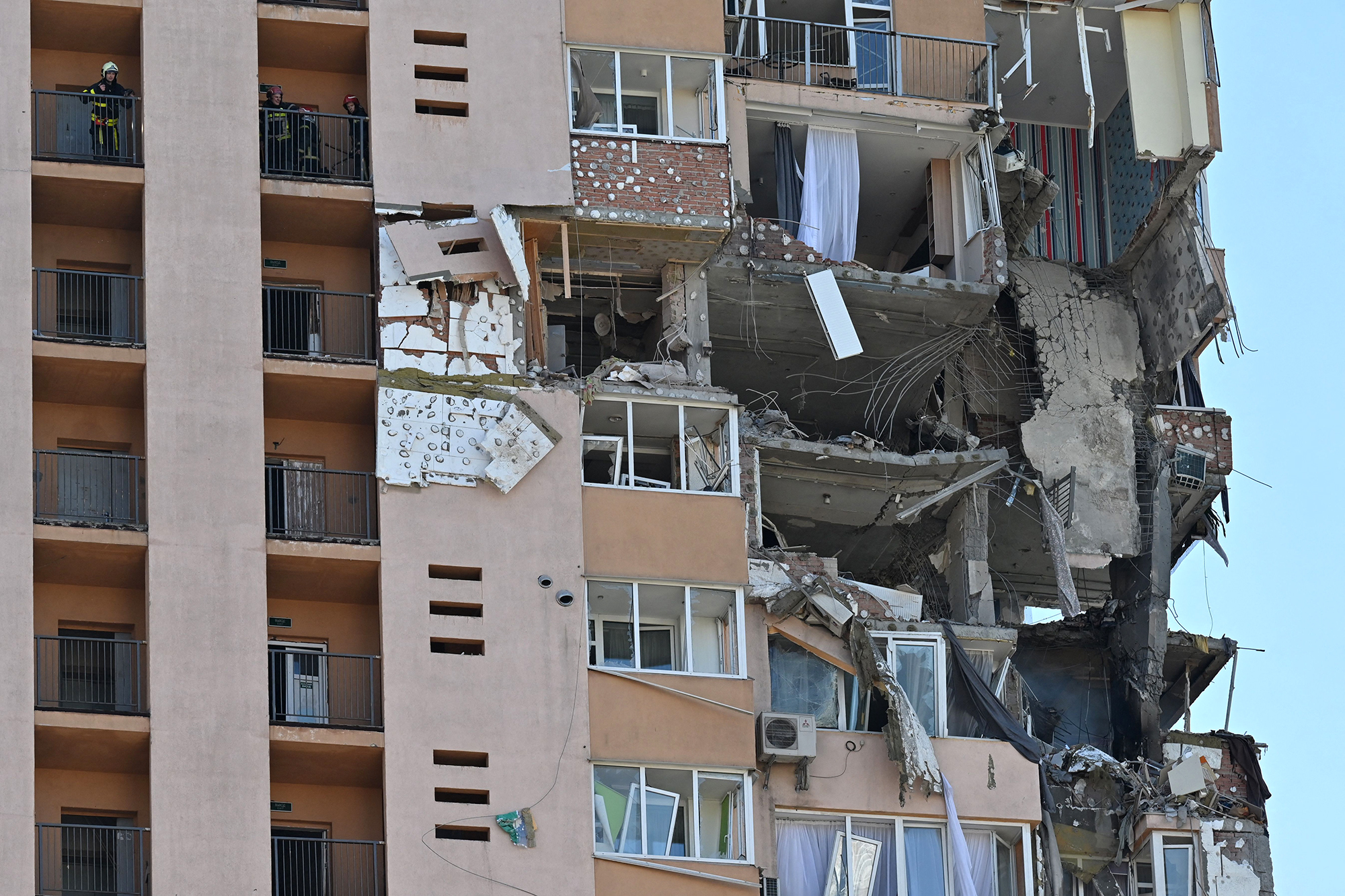 The Russian Ministry of Defense has denied reports that one of its missiles struck a residential building in Kyiv, claiming the damage was caused by a Ukrainian anti-aircraft projectile, Russian state news agencies reported on Saturday, citing a source at the ministry.
"The information disseminated on social networks about a Russian missile attack on a residential building on Lobanovsky Avenue in Kyiv is not true," the defense ministry source said, according to TASS and RIA Novosti. "The nature of the damage to the house indicates that an anti-aircraft missile hit it. This is clearly visible on the video."
"Obviously, in the course of repelling a night rocket attack on military infrastructure … of Ukraine, a failure occurred in the missile guidance system of the Ukrainian Buk-M1 medium-range air defense system, and the missile hit the corner of a residential building," the source added, according to TASS and RIA Novosti. 
CNN has reached out independently to the Russian Ministry of Defense for a response but has yet to hear back. 
Images and video from the scene showed a large impact some 10 floors up in the building, with the cause of the strike unclear and the extent of casualties unknown. Several apartment units were blown out entirely, their outer walls and windows missing, leaving a gaping hole visible in the building's side, as residents were evacuated.
Here's the location of the building: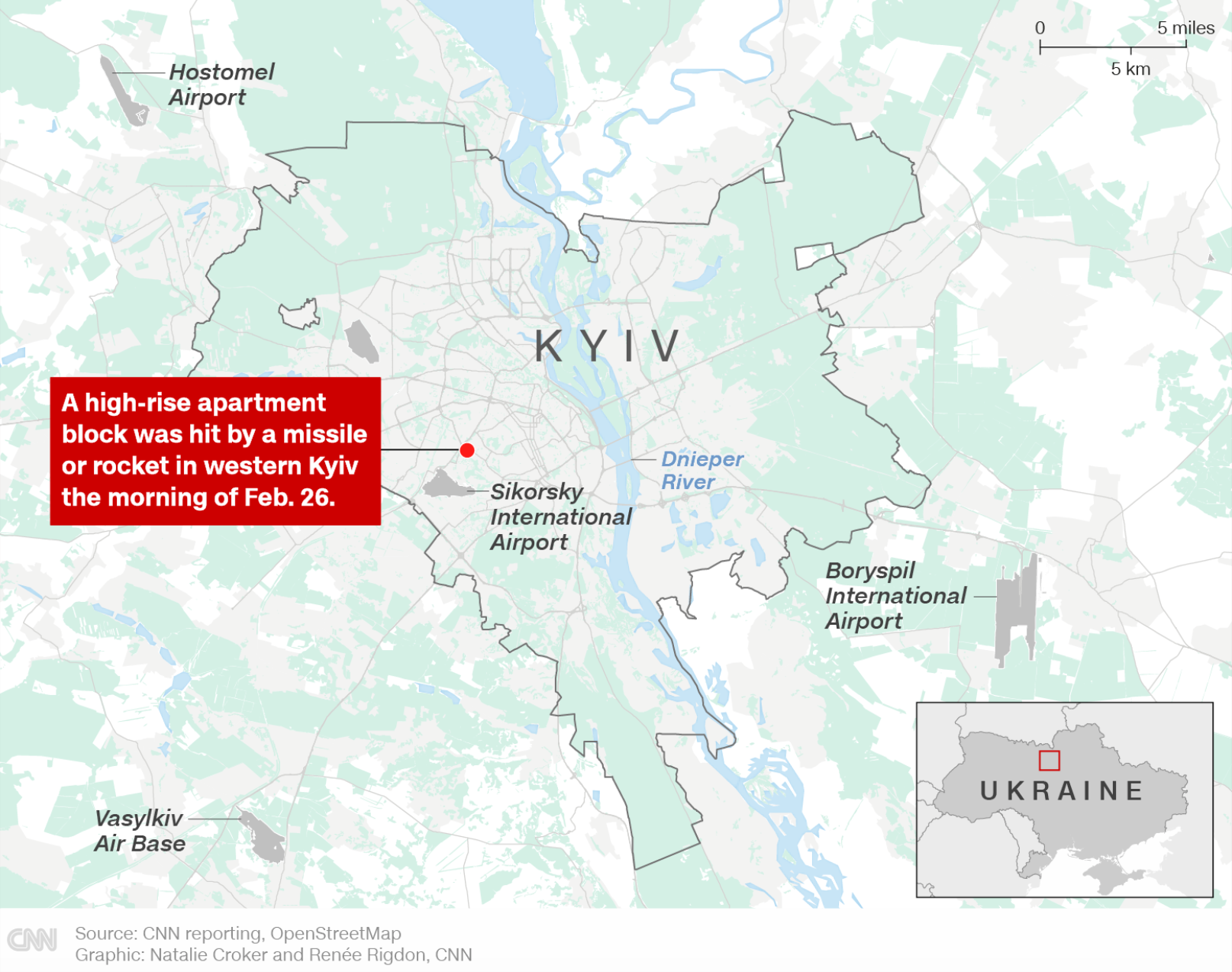 More context: Social media videos, photos and satellite images analyzed and geolocated by CNN confirm that on several occasions densely populated areas have been hit by Russian forces. CNN is reaching out to the Russian government for comment.
Amnesty International, in a press release on Friday, accused Russian forces of "indiscriminate attacks on civilian areas and strikes on protected objects such as hospitals," citing three examples, including an attack on Thursday near a hospital building in Vuhledar, in the eastern Donetsk region. That attack killed four civilians and wounded ten more, Amnesty reported.
Read about more examples CNN found here.
1 hr 36 min ago
Russia bans flights from Bulgarian, Polish and Czech carriers
From CNN's Vasco Cotovio in Moscow
The Russian Civil Aviation authority has closed off its airspace to flights from carriers or aircraft registered in Bulgaria, Poland and the Czech Republic.
"This decision was made in accordance with the norms of international law as a response to the ban on all civil flights of aircraft operated by Russian air carriers and/or registered in Russia to/from the territory of these states," the Russian Civil Aviation authority said in a statement on Saturday. 
On Friday, Russia's Federal Agency for Air Transport, Rosaviatsia, imposed a ban on UK registered flights or flights of aircraft owned, leased or operated by a person associated with the UK from transiting through the country's airspace. The ban was in response to the UK prohibiting civilian Russian aircraft from its airspace.
Travel affected: Meanwhile, Ukraine's airspace is currently closed in the wake of the Russian invasion. Its neighbor Moldova has also closed its airspace, as has part of Belarus. Furthermore, the US government's Federal Aviation Administration has told US pilots to avoid "the entire country of Ukraine, the entire country of Belarus and a western portion of Russia."
Read more:
1 hr 40 min ago
Japanese-owned cargo ship hit by a missile off Ukrainian coast
From CNN's Lizzy Yee and Emi Jozuka
A Japanese-owned cargo ship was hit by a missile off the coast of Ukraine in the Black Sea on Friday, lightly injuring one crew member, an official from a Japanese marine transportation firm said Saturday. 
The official added that there were 20 crew members on board.
According to a statement released on the Ukrainian Ministry of Defense's Facebook page on Saturday, preliminary reports indicate the missile was fired by Russian forces and hit the stern of "Namura Queen" cargo ship on Friday. 
"The tugboat 'P&O STAR' has come to the rescue. The situation is under control," the post said. It added that the ship was sailing under the Panamanian flag, and heading to Pivdennyy port. 
Japan's public broadcaster NHK reported Saturday that the "Namura Queen" crew are all safe. According to a website that tracks ships' positions, the vessel is currently en route to Istanbul, Turkey.
The Ukrainian Defense Ministry also reported that a different ship was shelled by a Russian warship on Friday. The vessel, "Millenial Spirit," was sailing under the Moldovan flag, and carried 600 tons of fuel oil and diesel onboard when it was struck. Two crew members were seriously injured as a result, according to the ministry. 
1 hr 49 min ago
If you're just waking up on Saturday, here's what you need to know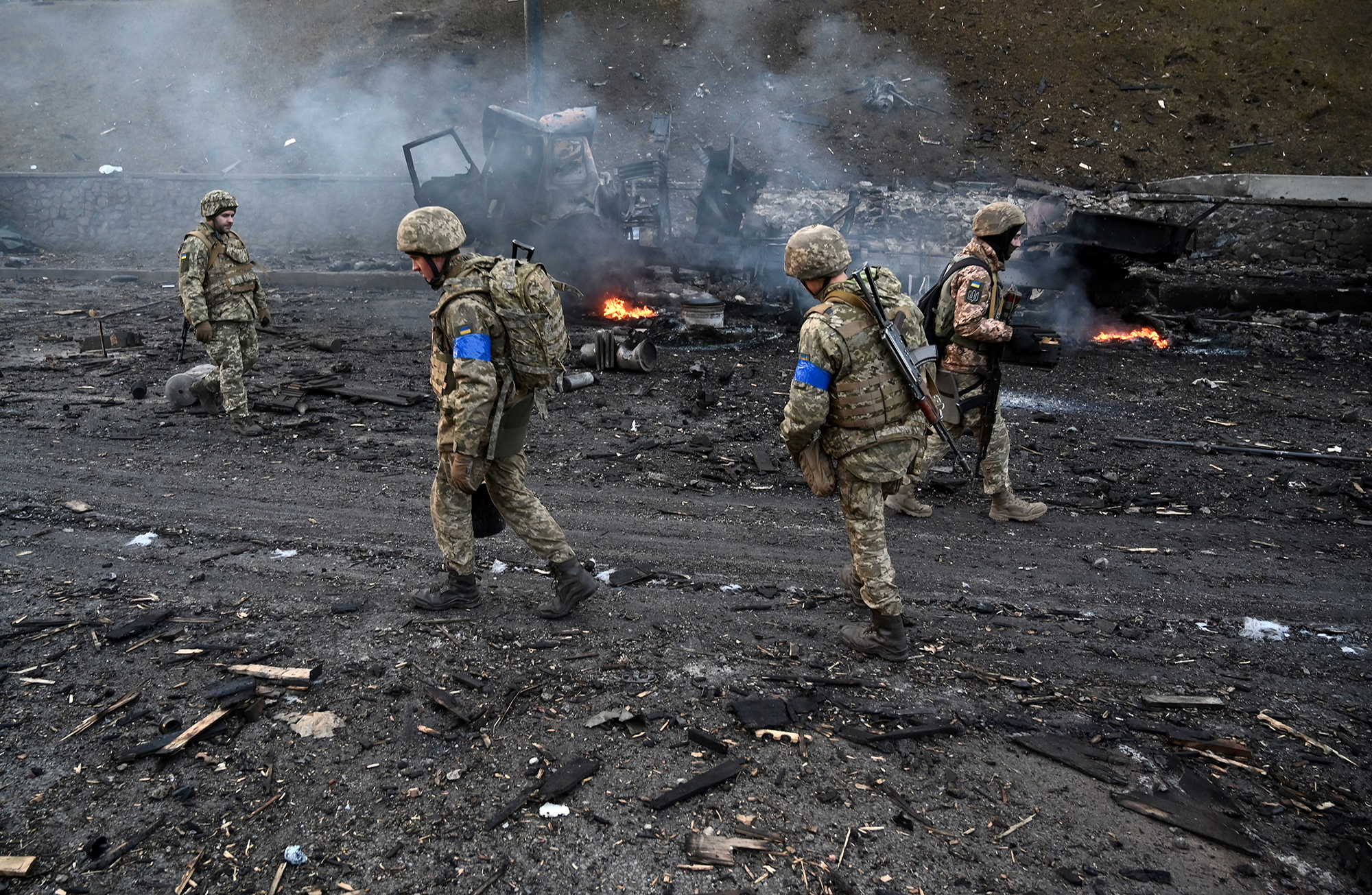 The streets of the Ukrainian capital Kyiv became a battle zone on Saturday, but President Volodymyr Zelensky told citizens in a video message that the country had "withstood and successfully repelled enemy attacks," with Kyiv still under Ukrainian control.
If you're just joining us, here's what you need to know:
1 hr 8 min ago
Sanctions against us "will change nothing," says former Russian president
From CNN's Vasco Cotovio in Moscow
Former Russian President Dmitry Medvedev has lashed out at Western sanctions imposed on Russia — of which he is also a target — saying they are a sign of "political impotence."
I believe it is obvious to intelligent people: sanctions are a myth, a threat, a figure of speech. I am fundamentally indifferent to these widely publicized restrictions of rights abroad," Medvedev said in a post on Russian social network VK on Saturday.
"The reason for the sanctions is this. It is political impotence arising from inability to change Russia's course. Also, a hope to make up for the shameful decisions like the cowardly flight from Afghanistan."
Medvedev, who currently serves as deputy chairman of the Security Council, added: "These amazing prohibitions will change nothing, of course. Even the ignorant people at the State Department know this."
The ex-president went on to compare the incursion into Ukraine, with Russia's military operation in Georgia in 2008. 
"[The military operation] will be conducted in full, until all the objectives the president of Russia has set out are achieved, no more and no less. As it was in a similar situation in 2008," he said. 
He argued that this move by Western nations would further increase the support the Russian government currently has. 
Well done to our US and EU partners – nothing consolidates the authorities, the ruling elites and, largely, the citizens of our country more than their love for Europeans and Americans," he said. 
Medvedev also threatened to nationalize assets that foreign companies held inside Russia, and said sanctions gave Russia a "good reason" to review its diplomatic relations with the countries who are imposing them. 
"Diplomatic relations are not that necessary, either," he wrote. "Time to put a padlock on embassies and confine contacts to gazing at one another through binoculars and rifle scopes."
Russia's invasion has been followed by sweeping sanctions by Western nations, designed to damage Russia's economy and turn President Vladimir Putin into an international "pariah."
2 hr 6 min ago
Officials are trying to stabilize Kyiv residential block struck by missile or rocket overnight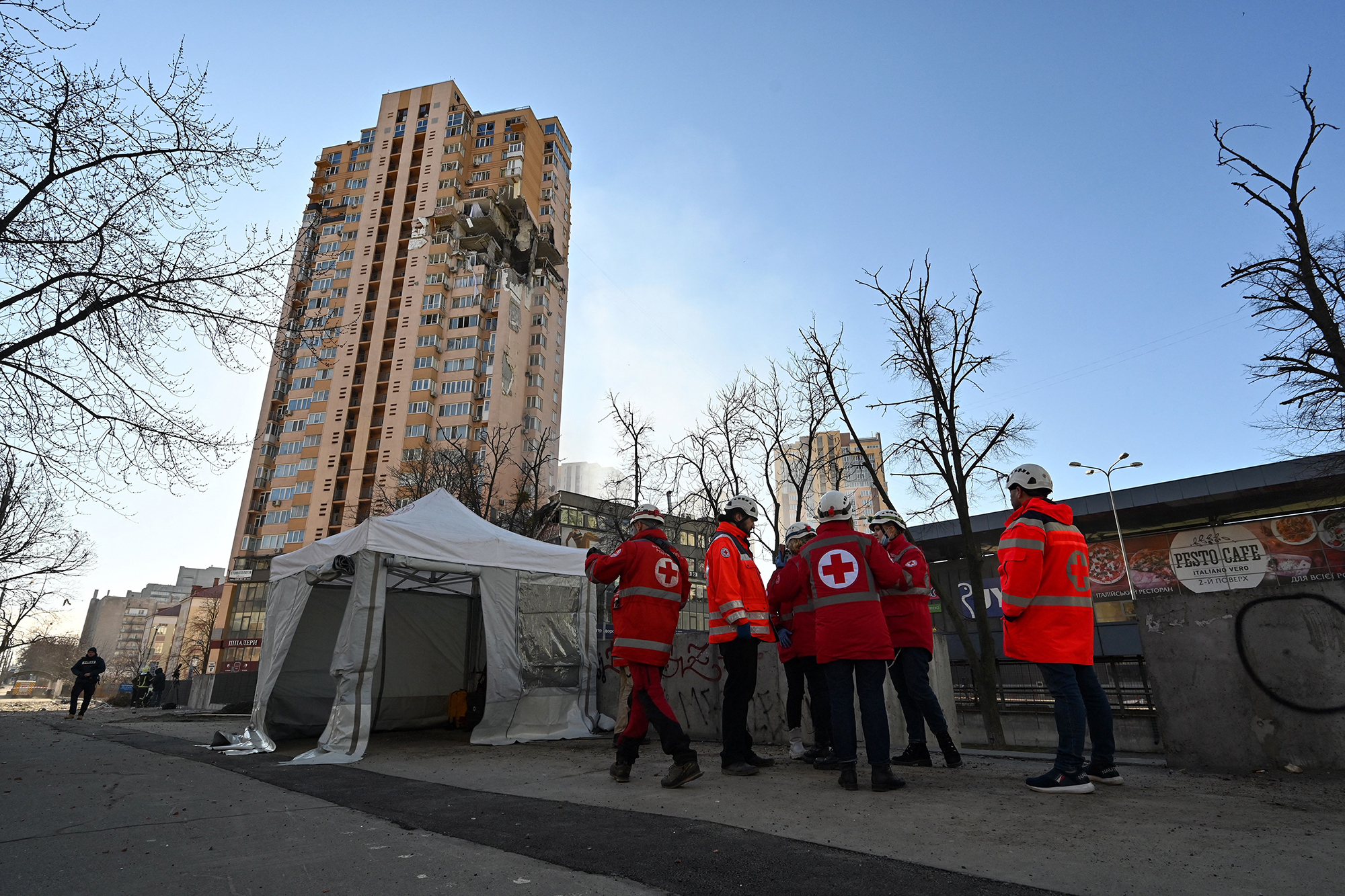 A tall residential building in Kyiv was struck by a missile or rocket fire on Saturday morning. Images from the scene showed a large impact some 10 floors up.
CNN's Chief International Correspondent Clarissa Ward has visited the scene, which is quite near to one of the capital's airports. Smoke could still be seen billowing from the building with the streets and air below littered with debris.
"There are ambulance workers on the scene. And what they're doing now is trying to take some scaffolding up there to try to prevent the 22nd and 23rd floors from collapsing," Ward reports, adding that miraculously no one was actually killed in the incident.
"We're hearing from Ukrainian authorities that six people were wounded," she adds. "They're being treated in various hospitals."
It was unclear who bears responsibility for the damage at this point, Ward reported.
"Ukrainian authorities saying that this was the work of a Russian missile. And the Russians are saying … that they believe this was actually a Ukrainian missile defense system that somehow went awry and ended up hitting this apartment building."
She continued: "Now, whoever was responsible, and however this happened, the reality is this is the sort of thing that does happen when you have a war playing out in a major metropolis like Kyiv.
"This is a city of nearly 2.9 million people and we're in a pretty central area here. This isn't on the far outskirts of town. You can just imagine how terrifying it was for the people who were sleeping, or just waking up, having their breakfast with their families on a Saturday morning, already terrified about the situation, only to find their building hit in this attack."
2 hr 20 min ago
Bulk of Russian forces just 18 miles from Kyiv, according to UK intelligence
From CNN's Sharon Braithwaite in London
The bulk of Russian forces are now only 18.6 miles (30 kilometers) from the center of Kyiv, the British Ministry of Defence said Saturday.
It also warned Russia that casualties are "likely to be heavy and greater than anticipated or acknowledged by the Kremlin."
According to the latest intelligence update from the ministry, "Russia has yet to gain control of the airspace over Ukraine greatly reducing the effectiveness of the Russian Air Force."
It said that "Ukrainian Armed Forces continue to put up staunch resistance across the country." 
Defiant president: Ukrainian President Volodymyr Zelensky told citizens the capital Kyiv was still under their control and "fighting continues," in his latest video message on Saturday.
Earlier, explosions in Ukraine were heard as the country's Interior Ministry warned of "active fighting" in the capital.
2 hr 31 min ago
Poland refuses to play Russia in next month's 2022 World Cup qualifier over Ukraine
From CNN's Lindsay Isaac
Poland has refused to play in next month's 2022 World Cup qualifier against Russia over Moscow's invasion of Ukraine, the President of the Polish Football Association Cezary Kulesza said on Saturday.  
"No more words, time to act! Due to the escalation of the aggression of the Russian Federation towards Ukraine the Polish national team does not intend to play the play-off match against Russia," he wrote on Twitter. 
Polish forward Robert Lewandowski backed up the decision, tweeting: "It is the right decision! I can't imagine playing a match with the Russian National Team in a situation when armed aggression in Ukraine continues. Russian footballers and fans are not responsible for this, but we can't pretend that nothing is happening."
Separately, in a statement, the Polish Football team said: "We, the players of the Polish national team, together with the Polish Football Association, decided that as a result of Russia's aggression against Ukraine, we do not intend to play in the play-off match against Russia  It is not an easy decision, but there are more important things in life than football. Our thoughts are with the Ukrainian nation and our friend from the national team, Tomasz Kedziora, who is still in Kiev with his family."
The statement signed off with hashtags: #SolidarnizUkraina (in solidarity with Ukraine) and #NoWar Please.