Our live coverage of President Biden's State of the Union has ended, but if you want to read and see how the night unfolded, you can…
1 hr 33 min ago
Key moments from Biden's first State of the Union address
President Biden delivered his first State of the Union address tonight where he touched on a multitude of issues the US is facing on both the domestic and foreign fronts, while also reaffirming to Americans that the country and its people are "strong."
Here are some key moments from his remarks:
Solidarity with the people of Ukraine: The Russian invasion of Ukraine was a focal point throughout the night and Biden began his remarks by addressing the conflict in a display of solidarity for the Ukrainian people. He received a bipartisan standing ovation as he called on members of Congress to stand in the House chamber in a show of support for the country. Ukraine Ambassador to the United States Oksana Markarova was one of first lady Jill Biden's guests and stood up holding her country's flag. Several members of Congress wore blue and yellow in support of Ukraine.
"Let each of us here tonight in this chamber, if you're able to stand, stand and send an unmistakable signal to Ukraine and to the world," the President said.
Biden also underscored unity against Russia within the US and among its allies. The President celebrated the impact actions will have on "Russian oligarchs and corrupt leaders who have bilked billions of dollars off this violent regime no more." He also asserted that "Russia's economy is reeling and Putin alone is to blame."
Pushing the "reset" button on Covid-19: Biden outlined his plan to emerge from the pandemic, calling for a bipartisan "reset" from the polarization of the last two years as the nation begins the return to normal.
"We have lost so much to Covid-19. Time with one another. And worst of all, much loss of life. Let's use this moment to reset, stop looking at Covid-19 as a partisan dividing line. See it for what it is: A God-awful disease. Let's stop seeing each other as enemies, and start seeing each other for who we are: Fellow Americans," he said.
Biden outlined details on efforts to combat the pandemic. He announced that Americans who ordered free Covid-19 tests from covidtests.gov will be able to order additional tests "starting next week" and said his administration's scientists are "working hard" to get vaccines authorized for children under five years of age.
Biden also noted that the US has tools needed to "end the shutdown" of schools and businesses, suggesting Americans can safely go back to the workplace.
Biden's holding out hope on his Build Back Better agenda: Biden signaled that he still has hope to pass key parts of his Build Back Better agenda, despite his economic package not getting past the Senate. Biden touched on prescription drug costs and child care costs.
A history-making backdrop: For the first time ever, two women — Vice President Kamala Harris and House Speaker Nancy Pelosi — sat behind the president of the United States during an official State of the Union address.
Celebrating Supreme Court Justice Stephen Breyer and touting nominee Ketanji Brown Jackson: Biden honored retiring Supreme Court Justice Stephen Breyer, who was treated to an extended applause, and he introduced and made the case for his nominee to replace Breyer, Ketanji Brown Jackson, calling her a "consensus builder."
Ending on a "strong" note: The President concluded his speech by reassuring the American people that, "The state of the union is strong, because you, the American people, are strong."
"We are stronger today than we were a year ago," Biden said. "And we will be stronger a year from now than we are today. Now is our moment to meet and overcome the challenges of our time. And we will, as one people. One America. The United States of America," he said.
Read takeaways from Biden's speech here and read about the night's "hits" and "misses" here.
CNN's Chris Cillizza, Betsy Klein and Maegan Vasquez contributed reporting to this post.  
10 hr 25 min ago
CNN poll shows viewers had a mostly positive reaction to Biden's State of the Union address
Analysis from CNN's David Chalian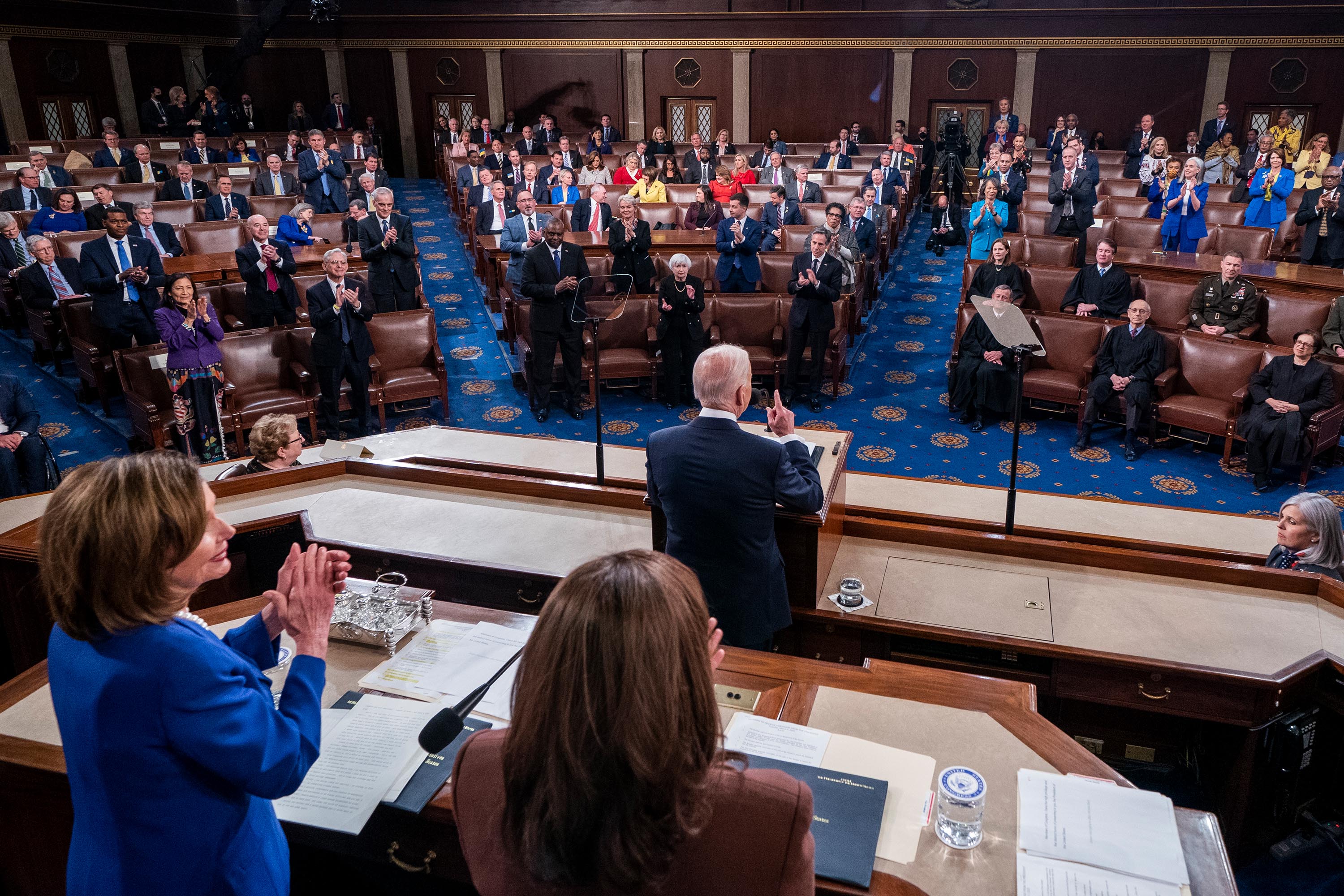 A CNN poll of those who watched President Biden's first State of the Union address found that viewers had a mostly positive reaction.
CNN's David Chalian reported that 41% of those polled had a very positive reaction to Biden's remarks, 29% had a somewhat positive reaction and 29% had a negative reaction to his speech.
Chalian noted that "41% is the lowest very positive we've seen in about 15 years of instant polling after the State of the Union address."
Asked if Biden did enough to address the Russian invasion of Ukraine, 69% said the President did enough.
"For the domestic issues that the White House is so keenly aware of in this midterm election year that are potential problem survive and, they still seem to be problems," Chalian said.
On inflation, only 47% said that Biden did enough to address the issue, and on violent crime, only 46% said he did enough. "Majorities for both inflation and violent crime said he did not do enough. again, I just want to remind you, that is the majority of a speech watching audience that is more democratic than the American populous overall," Chalian said.
Chalian added, "We've seen over the last year Joe Biden take a slide in the polls. There's no doubt about it. He is not just taking a slide with the overall public. He's also taking a slide, and I think this reflects that, the instant reaction speech, with people who are even supportive of him. Or in his party. And I think, you know, that is what these numbers reflect. Is that, he, obviously, has been on the decline. There is nothing in the speech that suggests he turned that around. Entirely, I don't think that's the expectation. I don't think that's a realistic expectation for this speech. But clearly, that decline in popularity that we have seen, we are seeing it across the board."
11 hr 33 min ago
Fact check: Biden's claims about energy efficiency savings
From CNN's Ella Nilsen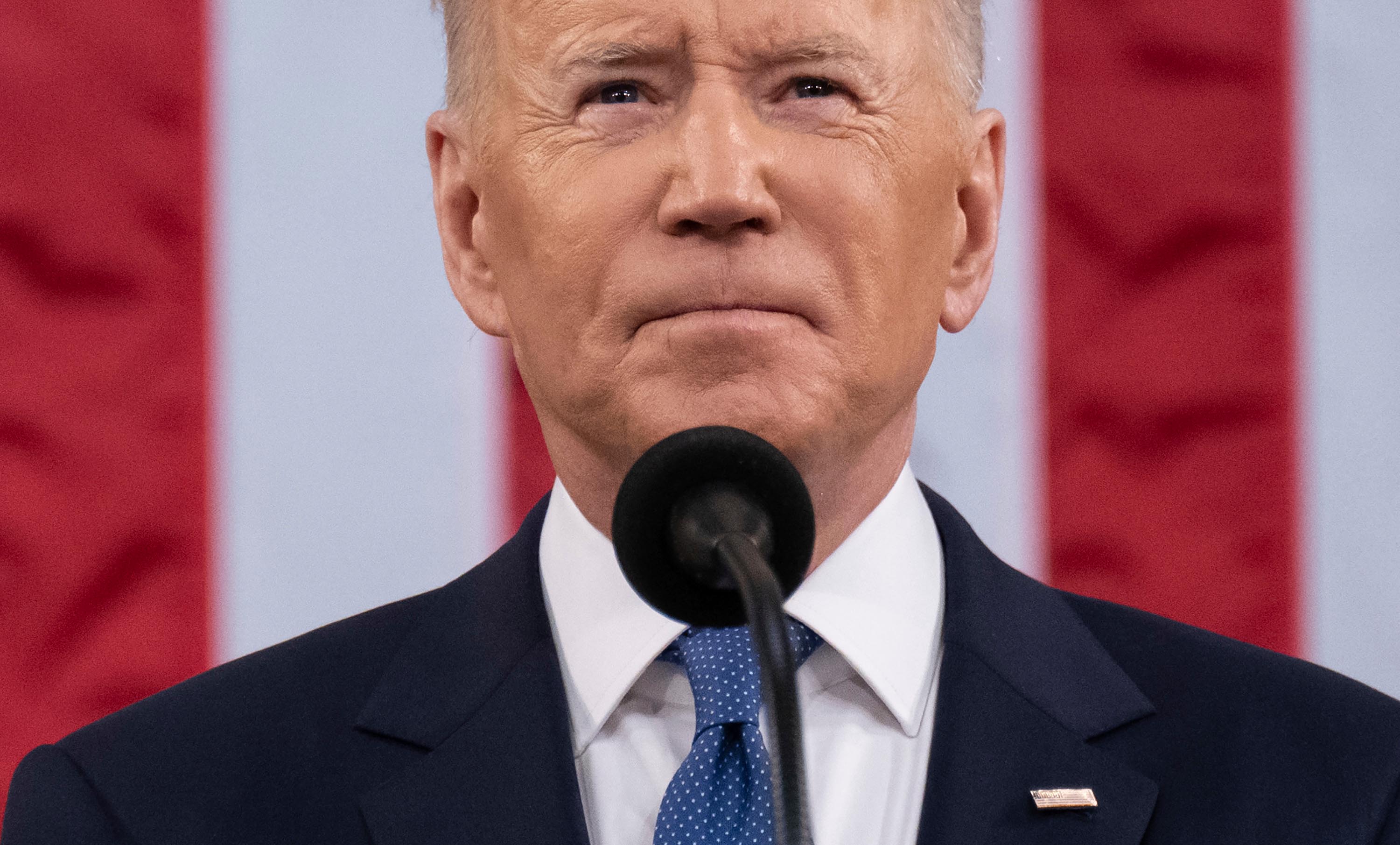 As President Biden touted the need to invest in energy efficiency during his State of the Union address, he said his clean energy legislative agenda would cut energy costs for American families an average of $500 a year by combating climate change. 
Facts first: This needs context. Biden's estimate is based on third party analysis that assessed the savings Americans might see by 2030, not immediately. 
Biden's $500 per year figure comes from a recent report done by the nonpartisan research firm Rhodium Group – which analyzed how much greenhouse gas emissions the US could slash by passing major clean energy legislation, putting forth new federal regulations, and having states pass new climate and clean energy bills as well. 
Rhodium's report also looked at how this would impact household energy costs; it stresses that clean energy tax credits would have the biggest impact on potential household savings because they would help bring down the costs of items such as clean electricity and electric vehicles.  
"Long-term tax credits, investments in energy efficiency and other factors cushion consumers from price increases associated with new standards and regulations," the Rhodium report reads. "On a national average basis, households save roughly $500 a year in energy costs in 2030 in our joint action scenario."
As it notes, Americans wouldn't expect to see energy costs go down by $500 per year immediately. Rhodium estimates that would happen by the end of the decade, with savings building gradually if Congress passed a major clean energy bill. 
11 hr 19 min ago
How senators are reacting to Biden's speech
From CNN's Ted Barrett and Ali Zaslav
Sen. Elizabeth Warren, a Democrat from Massachusetts, labeled President Biden's economic message as being "exactly where it should be."
Warren — among the Democrats who challenged Biden for the party's presidential nomination in 2020 — also responded to a question centered around Biden's Build Back Better agenda and the reconciliation bill, saying, "We just have to fish or cut bait on reconciliation, enough of this."
"We're not going to get what any one person wanted," Warren continued. "But there's so much that we all agree on that we ought to be able to get a deal, get it together and get it done. It's time."
Sen. Mitt Romney, a Republican from Utah, added that he thought Biden did a "very nice job on Ukraine, showed our full commitment to defending our allies and standing with the people of Ukraine."
Sen. Brian Schatz, a Democrat from Hawaii, told CNN that State of the Union is always "a challenge for a President because the President has to describe their agenda and it's not just one or two things." 
He added that "most of the members in the chamber behaved reasonably well."
Key swing vote Sen. Joe Manchin, Democrat from West Virginia, criticized Biden for calling for passage of a laundry list of items from the Build Back Better bill that the West Virginia Democrat blocked after months of negotiations.  
Asked by CNN if he was surprised by the inclusion of so many items in the State of the Union address, Manchin said, "No, not really. They just can't help themselves."
Asked if the he still considers the bill dead, Manchin replied, "There might be parts they want to talk about. I don't know. That was just too far."
And when he was asked about whether Biden appropriately addressed inflation concerns in the speech – that was a key reason Manchin never signed onto Build Back Better — the senator said, "Inflation is the biggest thing on my mind in West Virginia….I've never found you lower costs by spending money."
11 hr 47 min ago
Here's a breakdown of how much time Biden spent speaking about key topics during tonight's speech
From CNN's Kevin Liptak
President Biden spoke for 62 minutes during his first State of the Union address.
The economy took up the bulk of his speech.
Here is a breakdown for each topic Biden addressed during his speech:
Ukraine: 12 minutes (21:08:15 — 21:20:03)  
Economy: 25 minutes (21:20:03 — 21:45:00)
Covid-19 pandemic: 7 minutes (21:45:00 — 21:52:03)
Crime/Gun Control: 3 minutes (21:52:03 — 21:55:06)
Voting/Supreme Court/Immigration/Equality: 4 minutes (21:55:06 — 21:59:04)
Unity Agenda/Conclusion: 11 minutes (21:59:04 — 22:10:17)
For a visual representation of how the President spent his time, see the pie chart below: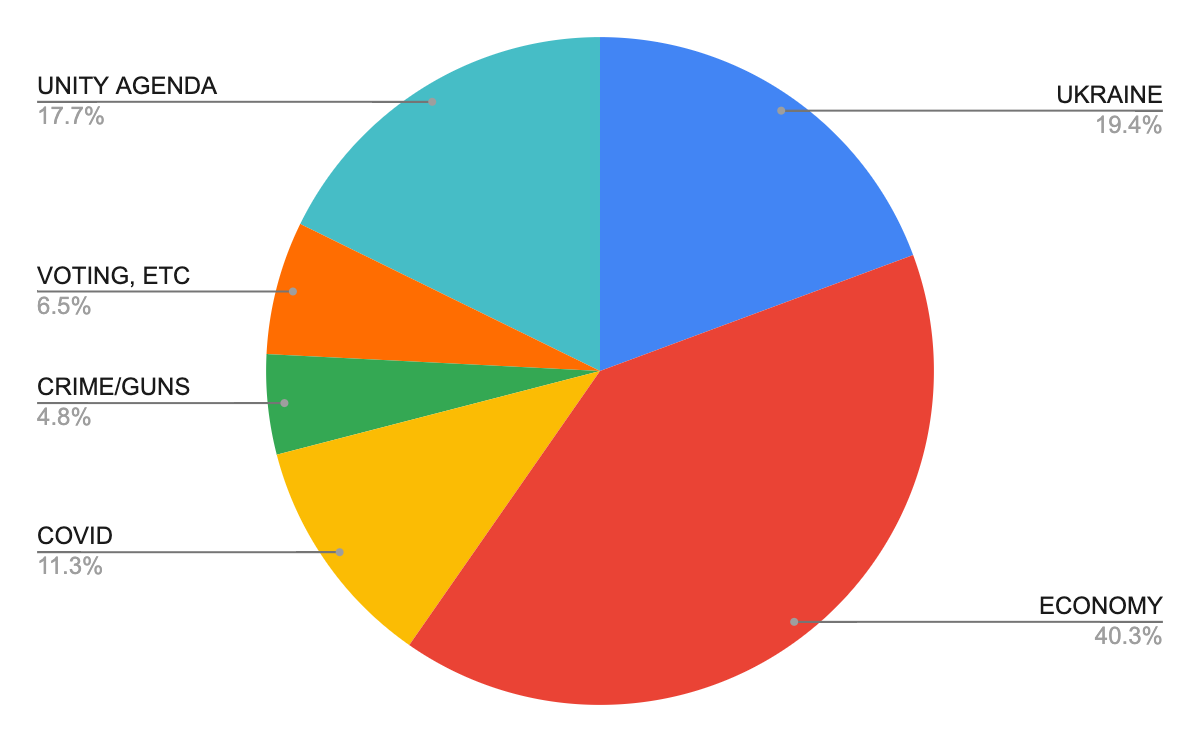 11 hr 57 min ago
Fact check: Biden's claim about economic growth
From CNN's Anneken Tappe
President Biden said the US economy had its strongest year in nearly four decades in 2021, growing at a rate of 5.7%.  
Facts first: That is correct. But it also needs some more context because the economy is still recovering from the devastating impact of the pandemic. 
The US economy was strong last year. The nation's gross domestic product, the broadest measure of economic activity, increased at a pace of 5.7%, according to the Bureau of Economic Analysis. That was the fastest growth rate since 1984, when Ronald Reagan was in the White House. 
That said, America is also still recovering from the worst of the pandemic. In 2020, GDP contracted as a result of the economy shutting down in response to Covid-19. Last year's upswing was still making up for lost ground.  
But the economic growth came at a price: inflation has soared, and Americans face higher prices everywhere from food to gasoline to furniture. At the start of 2022, two of the most-watched inflation indicators — the Labor Department's consumer price index and the Commerce Department's personal consumption expenditure price index — increased at the fastest pace since 1982 during the year ending in January. 
12 hr 5 min ago
Fact check: Biden on support for his SCOTUS nominee 
From CNN's Marshall Cohen
During his speech, President Biden touted his Supreme Court nominee, Judge Ketanji Brown Jackson, and claimed that her appointment has been embraced by a bipartisan array of interest groups and legal experts.  
"Since she's been nominated, she's received a broad range of support, from the Fraternal Order of Police, to former judges appointed by Democrats and Republicans," Biden said.  
Facts First: This is correct.  
Jackson, who is the first Black woman nominated to the Supreme Court, comes from a law enforcement family. Her brother was a detective in Baltimore and two of her uncles were police officers, including one who was the police chief in Jackson's hometown of Miami.  
Fraternal Order of Police National President Patrick Yoes issued a statement saying Jackson "has the temperament, intellect, legal experience, and family background to have earned this appointment" and will be a fair justice on the high court. This was a surprising endorsement, as the group endorsed former President Trump in 2020 and the group's vice president recently slammed Biden for "demonizing" police officers.   
Biden also accurately pointed out that Jackson has support from some retired GOP-appointed judges. This includes Judge J. Michael Luttig, who served in the Virginia-based federal appeals court for 15 years and informally advised former Vice President Mike Pence regarding Jan. 6. And according to Axios, Jackson is also supported by former Judge Thomas R. Griffith, who was an influential conservative voice on the DC Circuit Court of Appeals from 2005 until his retirement in 2020.  
But there are limits to the bipartisan support for Jackson's nomination. Some Senate Republicans have criticized her record and the Republican National Committee called her a "radical, left-wing activist." 
10 hr 24 min ago
Iowa governor encourages President Biden "to put his faith" in the American people
Gov. Kim Reynolds, a Republican from Iowa, said that she encourages President Biden "to put his faith" in the American people.
While delivering the GOP response to the State of the Union address, Reynolds said that Americans "have never wavered" their "belief in this country regardless of who leads it" because "the soul of America isn't about who lives in the White House." 
"It's men and women like you in every corner of this nation who are willing to step up and take responsibility for your communities, for your neighbors, and ultimately for yourselves. By that most important measure at least, the state of our union is indeed strong," she concluded.